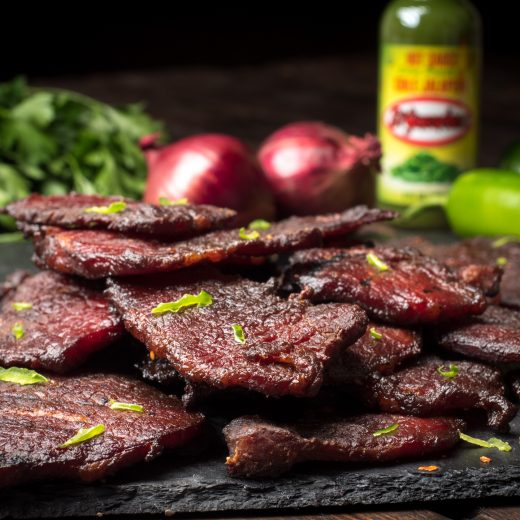 Jerky has been used for hundreds of years and its history is intertwined with the necessity of meat preservation at a time where food could be scarce. As early as 1550, meat was sun dried or smoked over wood fire and was able to sustain people through their journey with the necessary source of nutrition. This recipe for beef jerky is inspired by this staple food of cowboys and pioneers. Now consumed for its taste over its necessity, the blend of jalapeños, spices and other flavorful ingredients lift this recipe for beef jerky to a whole new level. Also compact and easy to carry, all these qualities makes jerky a road snack favorite and an essential for camping expeditions or long hikes in the mountains. This recipe for beef jerky will definitely make your next road trip across the country an experience to remember!
Ingredients
4 lb - Eye of round
½ cup - Honey
½ cup - Soy sauce
3 tbsp - El Yucateco Jalapeño Hot Sauce
2 tbsp - Lime juice
2 tbsp - Worcestershire sauce
1 tbsp - Onion powder
1 tbsp - Garlic powder
1 tbsp - Black pepper
Wood chunks for smoking, preferably apple and/or alder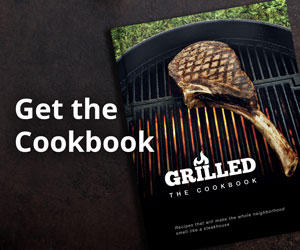 Preparation
Preheat your smoker to 225°F;
Place the eye of round roast into your freezer for 30 minutes to 1 hours. This is optional but it will facilitate slicing.
In bowl, wish all ingredients except the beef.
Slice the roast across the grain into 1/4 inch thick slices then place the beef slices into the marinade. Marinate for 6 hours up to overnight.
Remove the marinated beef slices from the marinade and pat dry with paper towels. Place the jerky into your smoker and toss a few wood chunks onto hot coals for smoking. Cook at 225°F for 4 to 5 hours.
Remove the jalapeño beef jerky from your smoker and serve directly. Optional: sprinkle freshly shredded jalapeños on top of the jerky for an extra kick.