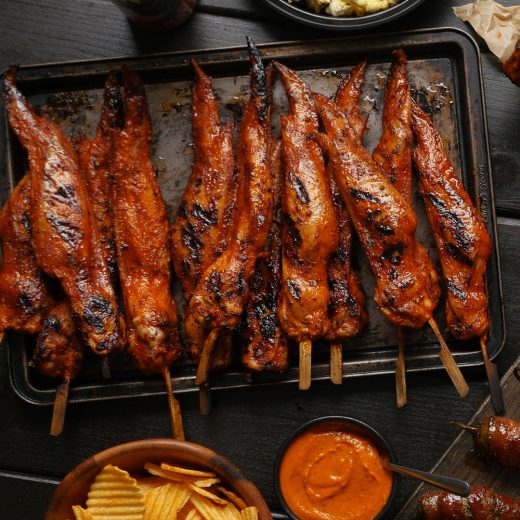 Looking for a way to add some heat to your game day menu? Our 5-Alarm Chicken Wing Skewers are the answer. These spicy skewers are loaded with flavour, thanks to a combination of jalapeño, habanero, horseradish, hot pepper flakes, cayenne powder, and black pepper. And the 5-Alarm Sauce, made with aged cayenne hot sauce and melted butter, takes the heat to the next level. Simply grill the skewers until the internal temperature of the meat reaches 165°F, then brush on the sauce and grill for an extra 1 to 2 minutes per side. Trust us, these spicy skewers will be the star of your next barbecue.
Ingredients
12 Whole chicken wings
Barbecue seasoning, store-bought or homemade
1 Jalapeño, stem removed
1 Habanero, stem removed
¼ White onion
1 Clove garlic, crushed
3 tbsp - Prepared horseradish
2 tbsp - Hot pepper flakes
2 tbsp - Cayenne powder
1 tbsp - Ground black pepper
½ cup - (1 stick) Salted butter, melted
2 cup - Aged cayenne hot sauce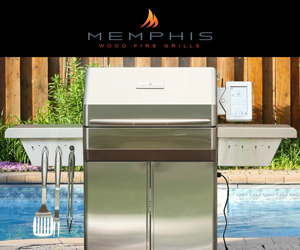 Preparation
Set your Memphis Grill to 250°F in indirect flame with the indirect insert. We recommend using apple or cherry wood pellets.
Stretch a whole chicken wing so that the 3 sections are in a straight line. Insert a skewer into the end of the drumette, then cross the flat to reach the tip.
Season chicken wings on both sides with barbecue seasoning.
Place wings in your grill and close the lid. Cook until the internal temperature of the meat reaches 165°F, about 45 minutes.
While the chicken wings cook, combine all the ingredients for the 5-Alarm Sauce in a blender or food processor and process until smooth. Set aside.
Remove chicken wings from the grill and brush with the 5-Alarm Sauce.
Swap your Memphis Grill's indirect insert for the direct flame insert. With the lid open, select direct flame mode and set flame level to Low.
Grill chicken wings for 1 to 2 minutes per side.