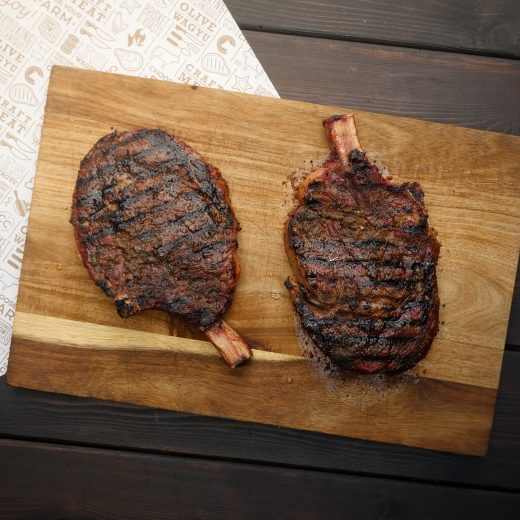 There is something about early mornings in the countryside. The air is fresh, the sun is coming up under a blanket of clouds and a nice cup of coffee to keep you warm. A true connection with nature. Crowd Cow helps to create that meaningful connection between the farmers and people, so you can have access to high quality meats that taste truly better than what you get in most supermarkets. Their 45 Day Dry-aged Cowboy Ribeye Steak cut, carefully curated, has a remarkable earthy and nutty flavor and makes this ribeye steak particularly tender and unctuously rich. Our wet rub made from toasted spices and arbol peppers opens the door to a wide complexity of exquisite flavors and aromas that flawlessly compliment this ribeye steak cut. Combined with the reverse sear grilling technique, this ribeye steak recipe yields a perfect medium rare from edge to edge with an amazing crust of salty flavors and charred goodness on the outside. While the irresistible smell and outstanding taste of flame grilled dry-aged beef is enough to provide a memorable ribeye steak experience, the frenched bone associated with the cowboy cut will guarantee a spectacular presentation. This ribeye steak recipe, as simple as it is, is likely to influence many on where they source their meat.
Ingredients
Steaks
Steak Wet Rub
3 Dried arbol chilis
1 tbsp - Black peppercorn
1 tsp - Mustard seed
1 tsp - Coriander seed
1 tsp - Dill seed
2 tbsp - Kosher salt or coarse sea salt
1 tbsp - Granulated garlic
1 tbsp - Granulated onion
1 tbsp - Tomato paste
¼ cup - Olive oil
1 tbsp - Water
Tools & Supplies
Wood chunks for smoking, preferably oak or hickory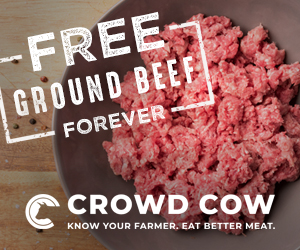 Preparation
Preheat your grill for two-zone cooking. If using a charcoal grill, dump a chimney of hot coals on one side of the bottom rack. If using a gas grill, adjust half of the burners to high and leave the other half closed.
In a skillet over medium high heat, toast the dried arbol chilis, black peppercorn, mustard seed, coriander seed and dill seeds until fragrant, about 1 to 2 minutes. Transfer the toasted spices to a spice blender and blend until coarsely ground. Transfer the spices to a bowl and mix in the remaining steak wet rub ingredients to get a paste.
Using your hands, apply the wet rub on all sides of the steaks to get an even coating.
Place the steak on your grill over indirect heat. Toss one or two wood chunks onto hot coals for smoking and close the lid. Cook until the internal temperature of the meat reaches 100°F on an instant read thermometer, about 20 to 35 minutes.
Once the steaks have reached their target temperature, move over direct heat and grill for 1 to 2 minutes per side, or until desired doneness. 125°F for rare, 130°F for medium rare, 140°F for medium, 150°F for medium well and 160°F for well done.
Remove steaks from the grill and let rest for 5 minutes before serving.