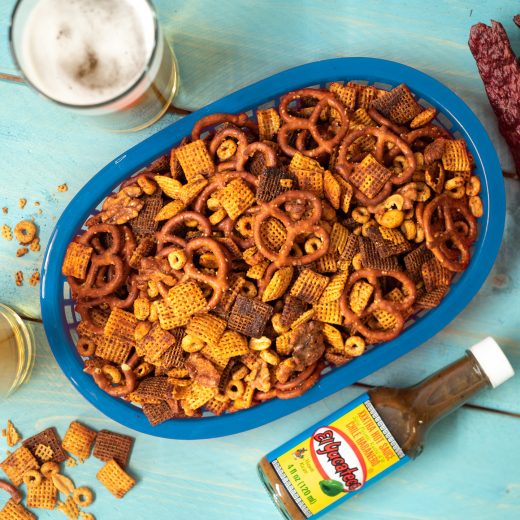 A homemade Chex mix can be the perfect snack to satisfy any craving, especially during a snack binge. I found myself in that exact situation not too long ago, rummaging through the pantry for something satisfying and delicious. That's when I stumbled upon the idea of creating the ultimate homemade Chex mix, one that would not only taste amazing on its own but also pair perfectly with my favorite American IPAs.
After several attempts, I finally perfected the recipe. I think I made 4 or 5 batches of this homemade Chex mix before really nailing it. Large zip loc bags of my previous batches went to my relatives, and to my delight, they loved them! One of the batches, number 3 to be exact, was extremely spicy because I went a little too generous with the El Yucateco. But hey, it's all about the trial and error, right?
Making homemade Chex mix at home is not only easy but also allows you to balance the heat according to your preferences. The secret ingredient that truly elevated my homemade Chex mix was the El Yucateco XXXtra Hot Sauce. Instead of using the traditional cayenne powder, which doesn't provide much flavor besides heat, this hot sauce added a depth of flavor that was unparalleled.
The XXXtra Hot Chex Mix recipe is simple to follow and takes about 1 hour and 20 minutes from start to finish. With the combination of Rice Chex, Wheat Chex, Cheerios, pretzels, and peanuts, the mixture of textures and flavors will have you reaching for more. The spiced butter mixture with El Yucateco hot sauce and various spices coats the snack mix evenly, creating a delectable and spicy homemade Chex mix that's simply irresistible.
I can hardly wait for my next road trip to Vermont, where I plan to pack a large bag of this homemade Chex mix to enjoy on the road. There's something about snacking on your own creations that adds to the experience, especially when they're as delicious as this homemade Chex mix.
So, if you're looking for a scrumptious, spicy snack that pairs well with a cold beer, look no further than this homemade Chex mix. Not only is it simple to make and customizable, but it's also guaranteed to satisfy your cravings and impress your friends and family.
Ingredients
4 cup - Rice Chex™ cereals
4 cup - Wheat Chex™ cereals
2 cup - Cheerios cereal, preferably nature, honey nut or wheat
2 cup - Bite-sizes pretzels
1 ½ cup - Peanuts (can be substituted with walnuts)
¾ cup - (1½ sticks) Salted butter
¼ cup - El Yucateco XXXtra Hot Sauce
1 tsp - Smoked paprika
½ tsp - Garlic powder
½ tsp - Onion powder
½ tsp - Fine sea salt
¼ tsp - Ground black pepper
Preparation
Preheat your grill for indirect heat at 275°F. This recipe can also be made in the oven.

In a large bowl, combine Rice Chex, Wheat Chex, Cheerios, pretzels and peanuts.

Melt butter in the microwave, then stir in El Yucateco XXXtra hot sauce, smoked paprika, garlic powder, onion powder, sea salt and ground black pepper.

Pour the spiced butter mixture over the cereal blend and toss gently with your hands to coat evenly.

Arrange two baking dishes lined with parchment paper. Spread the buttered Chex mixture over the dishes in even layers. Place the dishes in your grill over indirect heat or in the oven and cook for 45 min to 1 hour, stirring every 20 minutes.

Transfer to paper towels to cool. Store in a resealable plastic bag or airtight container.