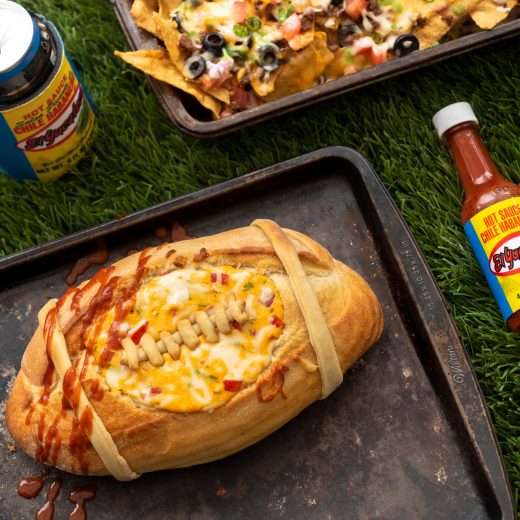 Looking for the perfect game day snack? Look no further than our Football Bread Bowl Cheese Dip. This spicy, creamy dip combines red onion, garlic, preserved roasted red bell pepper, and El Yucateco Red Habanero Hot Sauce for a flavour that will have you coming back for more. Serve it in a hollowed out football-shaped bread loaf for an extra touch of fun. And if you're feeling extra ambitious, you can even add stripes and laces to your bread bowl using a little pizza dough. So why wait? Score a touchdown with your taste buds and give this recipe a try.
Ingredients
Spicy Cheese Dip
1 Red onion, diced
1 Garlic clove, chopped
1 Preserved roasted red bell pepper, diced
2 tbsp - Butter
4 oz - Cream cheese
¼ cup - Milk
½ cup - Shredded orange cheddar
¾ cup - Shredded mozzarella
¼ tsp - Ground black pepper
2 tbsp - Cilantro, chopped
2 tbsp - El Yucateco Red Habanero Hot Sauce
Football Bread
1 Oval shaped bread loaf
4 oz - Pizza dough (optional, to make the stripes and laces)
Preparation
Preheat your grill or oven to 400°F; if using a grill, set it up for indirect cooking.

Soften the onions, garlic and bell peppers with butter in a skillet over medium heat. Add cream cheese and stir until melted. Add milk, cheddar, ½ cup mozzarella and cook over medium-low heat, stirring constantly until cheese is melted. Add Red Habanero sauce, ground black pepper and cilantro. Remove from heat and set aside. 

Carve a circle in the middle of the bread loaf. Scoop out the crumb without breaking the crust. Fill the loaf with the cheese dip. 

Make the stripes and laces (optional): with a rolling pin, roll out the pizza dough as thin as possible. Cut in two ½ inch strips and lay on each side of the loaf to form the white stripes. Make thin strips with leftover dough and form into laces the middle of the football. Sprinkle with ¼ cup mozzarella.

Bake for about 20 minutes or until cheese is hot and bubbly. Drizzle with more Red Habanero sauce to taste.