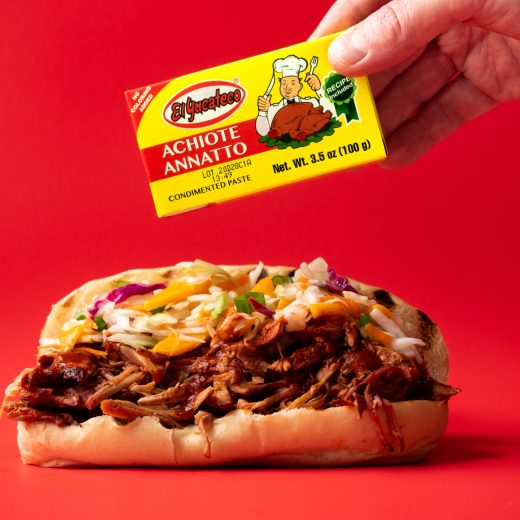 Are you ready for the most mouthwatering, flavour-packed pulled pork sandwich of your life? Our Al Pastor pulled pork sandwich recipe combines the classic Mexican flavours of al pastor with the smoky, tender goodness of pulled pork.
First, we start by making the al pastor sauce with a blend of pineapple juice, ancho chiles, El Yucateco achiote paste, cumin seeds, and a host of aromatic spices. Then, we slow smoke the pork to perfection using a blend of oak and apple wood. The result is a succulent, flavour-packed pork that practically melts in your mouth. But we didn't stop there. To add a refreshing crunch and a pop of sweet flavour, we've topped our pulled pork with a tangy mango slaw. The slaw is made with finely shredded green cabbage, juicy mangoes, and apple cider vinegar. Finally, we nestle the pulled pork and mango slaw in soft, pillowy sub rolls. The combination of smoky, spicy pork and sweet, crunchy slaw is absolutely divine. Trust us, one bite of this sandwich and you'll be hooked.
So why wait? Fire up your smoker and give our Al Pastor Pulled Pork Sandwich recipe a try. Your taste buds (and your friends and family) will thank you.
Ingredients
Pulled Pork
1 Pork shoulder, 8 to 10 lbs
2 tbsp - Kosher or coarse sea salt
1 tbsp - Ground black pepper
10 Sub rolls
Al Pastor Sauce
1 cup - Pineapple juice
½ cup - Water
3 Ancho chiles, seeded
1 ½ oz - El Yucateco Achiote/Annatto Paste
1 tsp - Cumin seeds
½ tsp - Kosher or coarse sea salt
½ tsp - Ground black pepper
1 Clove
¼ cup - Brown sugar
3 tbsp - Apple cider vinegar
½ White onion, cubed
2 Garlic cloves
Mango Slaw
3 cup - Green cabbage, thinly sliced
1 cup - Red cabbage, thinly sliced
2 Green onions, sliced
1 Mango, thinly sliced
3 tbsp - Apple cider vinegar
2 tbsp - Vegetable oil
Preparation
Al Pastor Sauce
In a small saucepan, bring pineapple juice and water to a boil. Add ancho chiles, achiote paste, cumin seeds, salt, pepper and clove and simmer for 5 minutes. Transfer the mixture to a blender. Add brown sugar, vinegar, Caribbean sauce, onions, garlic and process until smooth. Set aside. 
Pulled Pork
Preheat your smoker to 275°F.

Generously season pork shoulder with coarse salt and black pepper.

Place pork shoulder in your smoker and toss 1 or 2 wood chunks onto hot coals for smoking. Cook until the internal temperature of the meat reaches 165°F. 

Transfer the meat into an aluminum baking pan. Pour the al pastor sauce into the pan and cover with aluminum foil. Continue cooking in the smoker until the internal temperature reaches 205°F. 

Remove the pork shoulder from the al pastor sauce and let rest at room temperature for one hour. 

Shred the meat into small chunks and transfer back into the al pastor sauce. Serve in toasted sub rolls with mango slaw and Caribbean sauce to taste.
Mango Slaw
In a bowl, combine all mango slaw ingredients and season with salt and pepper to taste. Store in the refrigerator until ready to serve.