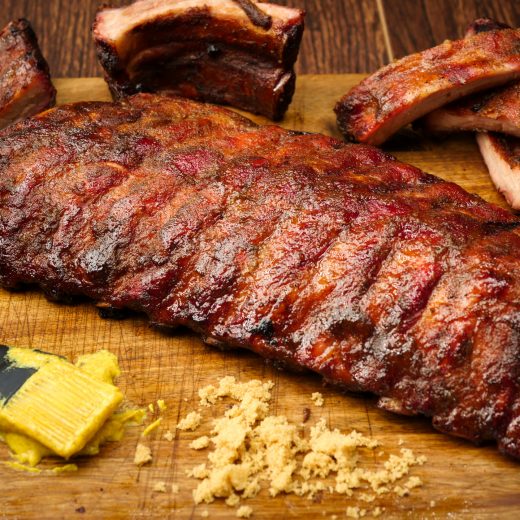 Sitting on your favorite chair in your yard, simply thinking and enjoying an unseasonably warm and sunny day. Your stomach starts growling and as a true grillardin, your thoughts go to those bbq ribs waiting for you in the fridge. Sometimes, all the bbq ribs recipes and ideas start to look similar. And while most of the time a bbq sauce goes hand in hand with ribs, this particular recipe will answer your longing for a tasty piece of fall-of-the bone bbq ribs without the necessity of making a bbq sauce. Indeed, the perhaps surprising amount of brown sugar will form a crust of the ribs making them especially tender. The sweet to salty ratio is perfectly balanced for succulent bbq ribs, no extra toppings needed. Simple enough that you always have the necessary ingredients, this bbq ribs recipe won't disappoint.
Ingredients
Ribs
2 Full slabs pork baby back ribs
¾ cup - Spicy brown mustard
1 stick Butter, cut into ¼" thick slices
Wood chunks for smoking, preferably oak, hickory or pecan
Brown Sugar Rub
2 cup - Light brown sugar
1 ½ tbsp - Kosher salt
2 tsp - Garlic powder
2 tsp - Onion powder
1 tsp - Black pepper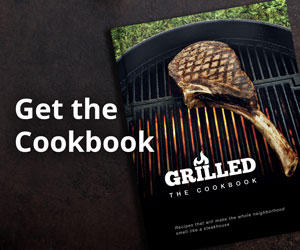 Preparation
Preheat your smoker to 250°F.

Remove the ribs membrane: using a butter knife and paper towels, flip the ribs bone side up then insert the knife between the thin, rubbery membrane and one of the bones. Grab and pull the membrane with paper towels to remove completely. 

In a large bowl, combine all Brown Sugar Rub ingredients, mixing with your fingers to break any lumps. Brush both sides of the ribs with sweet hot mustard then layer a generous amount of brown sugar rub to create a ¼ inch thick crust all around the ribs.

Place ribs in your smoker and toss a few wood chunks onto hot coals for smoking. Cook until the internal temperature of the meat reaches 160°F, about 3 hours.

Remove ribs from your smoker, top with slices of butter then wrap into FDA-approved peach butcher paper. Place back in the smoker and cook until the internal temperature of the ribs reaches 205°F, about 2 to 3 hours.

Remove ribs from your smoker and let rest for 20 minutes before serving.