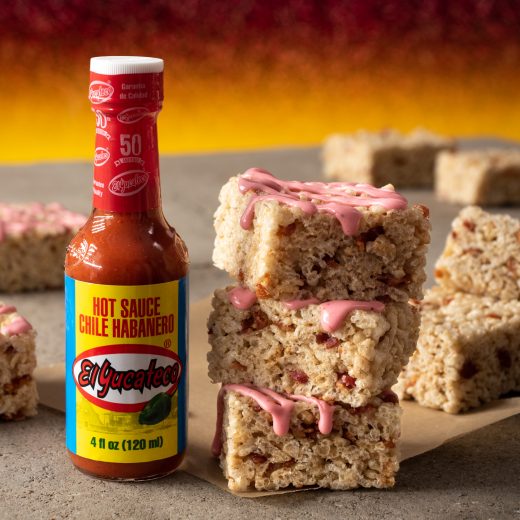 Satisfy your sweet and savoury cravings all at once with our Bacon Rice Krispie Treats with Habanero Icing. This tasty twist on a classic dessert combines crispy, buttery Rice Krispies treats with salty, smoky bacon, and is topped with a spicy habanero icing. This delicious dessert is sure to be a hit with anyone who loves a little spice in their life.
Ingredients
Rice Krispies Treats
¼ cup - Butter
½ lb - Regular marshmallows (about 40)
½ tsp - Vanilla
6 cup - Puffed rice cereal, such as Rice Krispies
8 slices Cooked bacon, chopped
Preparation
Rice Krispies Treats
In a large saucepan over medium-low heat, melt the butter. Add the marshmallows and vanilla and stir until fully melted. Add the rice cereals and the bacon and combine.

Transfer into a 9" x 13" buttered baking dish and press gently with a buttered spatula or fork. Leave to cool at room temperature before cutting into squares. 
Habanero Icing
In a bowl, whisk together sugar with red habanero hot sauce and food coloring, if using. 

Drizzle the icing over the Rice Krispies treats and serve.