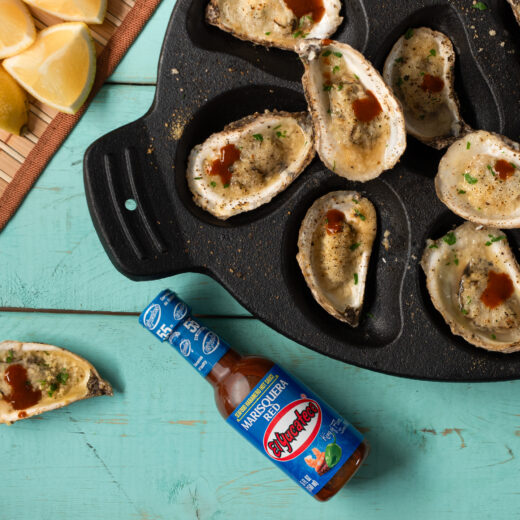 Ingredients
12 Fresh oysters, shucked
½ cup - (1 stick) Unsalted butter, softened
2 tbsp - El Yucateco Red Marisquera Hot Sauce
¼ cup - Breadcrumbs
¼ cup - grated parmesan cheese
2 tbsp - Fresh parsley, finely chopped
1 lemon, sliced into wedges
Salt and pepper, to taste
Preparation
Preheat your grill to medium-high heat.
In a bowl, mix butter, 2 tablespoons of El Yucateco Red Marisquera Hot Sauce, breadcrumbs, parmesan cheese, parsley, salt, and pepper until well combined.
If using a cast iron oyster grill pan, place each shucked oyster in its individual slot. If you don't have an oyster pan, create small aluminum foil boats and place each oyster inside to ensure they are stable.
Spoon the butter mixture generously over each oyster.
Place the oyster pan, or the foil-wrapped oysters, on the grill and cover. Cook for 6-8 minutes or until the edges of the oysters begin to curl and the butter is bubbly.
Remove the oysters from the grill. Dash each oyster with a bit more El Yucateco Red Marisquera Hot Sauce, and serve with lemon wedges on the side.