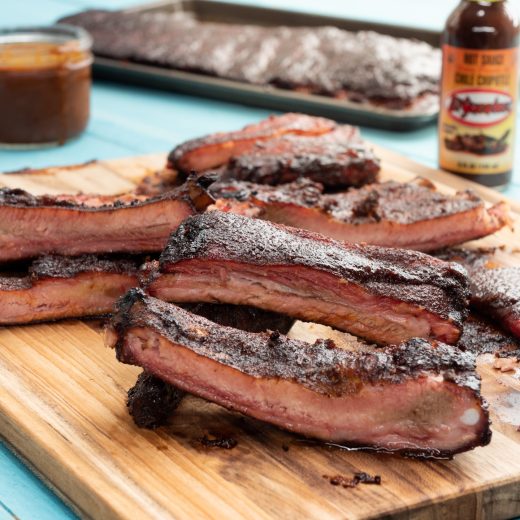 It's been days since the craving for some ribs striked and there is little that can be done to silence it. Nothing comes close to the classic sweet and salty taste of smoked spare ribs to satisfy that hankering for barbecued meat. This variety of pork ribs can be found in various cuisine around the world, but we humbly think that none can meet the tenderness and flavor of American-style smoked spare ribs. Particularly satisfying when cooked properly, this smoked spare ribs recipe yields tender ribs with a thin crust of barbecue goodness. The El Yucateco Chipotle sauce adds just the perfect level of spiciness to this heavenly smoky barbecue sauce and low and slow cooked ribs. Sincerely, this is a sweet and spicy, 100% finger-licking smoked spare ribs recipe – a must-try!
Ingredients
Ribs
2 slab Spare ribs, St. Louis cut
Wood chunks for smoking, preferably oak, pecan or hickory
Rub
3 tbsp - Brown sugar
3 tbsp - Paprika
1 ½ tbsp - Kosher salt
1 tbsp - Black pepper
2 tsp - Onion powder
2 tsp - Garlic powder
Chipotle Molasses Barbecue Sauce
3 tbsp - El Yucateco Chipotle Hot Sauce
½ cup - Molasses
1 tbsp - Tomato paste
3 tbsp - Butter
1 tbsp - Onion powder
1 tbsp - Garlic powder
1 ½ tbsp - Kosher salt
1 tbsp - Black pepper
¼ cup - Tomato sauce
½ cup - White vinegar
1 cup - Water
1 tbsp - Cornstarch
Preparation
Preheat your smoker to 225°F;

Remove the membrane under each slab of ribs by inserting a butter knife between the membrane and one of the bone, grab and pull the membrane with paper towels to remove it completely;

Combine all Rub ingredients into a bowl, mixing with your fingers to break any lumps. Season the ribs on both sides with the dry rub.

Place the ribs in your smoker and toss a few wood chunks onto hot coals for smoking; Close the lid and cook for 4½ to 5 hours.

Meanwhile, combine the El Yucateco Chipotle Hot Sauce, molasses, tomato paste, butter, onion powder, garlic powder, salt and black pepper into a cast iron skillet bring to a simmer until the butter has completely melted. Add the tomato sauce, white vinegar, water and cornstarch slurry and bring to a boil for 5 minutes. Place the skillet in your smoker next to the ribs to smoke the sauce.

Once the ribs have cooked for approximately 5 hours, start brushing every 20 minutes with the Chipotle Molasses Barbecue Sauce on both sides and continue to cook until the internal temperature of the meat reaches between 200 and 205°F on an instant read thermometer, about 1 hour. 

Remove the ribs for the smoker and let rest for 15 minutes at room temperature before serving.