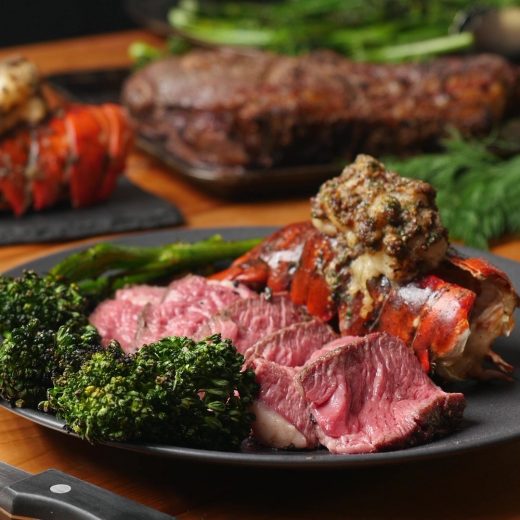 We've never had better Surf and Turf! A masterpiece that brings the king of land and the king of sea together in a flavor explosion of epic proportions. Taste buds all over the country will be titillated and satisfied by this delicious Wood Fired Surf and Turf.
Introducing our secret weapon, the Umami Compound Butter. A symphony of flavors crafted from the smokey essence of beef marrow, the earthy umami of shiitake mushrooms, the zesty zing of lemon zest, the depth of Worcestershire sauce, and our special blend of freshly cracked Montreal steak seasonings. This butter is the final touch of magic, transforming each juicy bite of the grilled tomahawk steaks and lobster tails into a flavor fiesta.
We partnered with Memphis Wood Fire Grills to bring you this dish and let us tell you, they did not disappoint. Using their Pro Cart ITC3 Grill, we were able to take our Surf and Turf to new heights. Thanks to the grill's accuracy, technology, and insulation, you are sure to consistently achieve the right doneness cook after cook.
So come join us for a Surf and Turf adventure that you won't soon forget. A journey of flavors that's been long in the making, a story that will be told time and time again.
Ingredients
Montreal Steak Seasoning
¼ cup - Mixed peppercorns
2 tbsp - Coriander seeds
2 tbsp - Dill seeds
¼ cup - Kosher or coarse sea salt
2 tbsp - Granulated garlic
2 tbsp - Granulated onions
1 tbsp - Red pepper flakes
Umami Compound Butter
4 Halved beef marrow bones
1 cup - (2 sticks) Unsalted butter, soften at room temperature
2 tbsp - Montreal Steak Seasoning
1 tbsp - Powdered shiitake mushrooms
1 tbsp - Dried parsley
1 tbsp - (roughly 1 lemon) Lemon zest
1 tbsp - Worcestershire sauce
Surf and Turf
2 Tomahawk steaks, 1.75 to 2-inch thick
4 Large Lobster tails, 8 to 10 oz each
1 head Broccolini (optional)
Extra virgin olive oil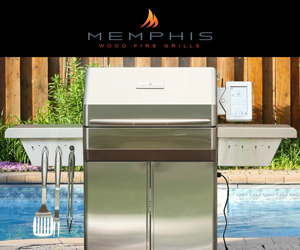 Preparation
Montreal Steak Seasoning
Using a spice blender or mortar and pestle, crush or pulse the mixed peppercorns, coriander seeds and dill seeds until coarsely ground.
Transfer the spices to a bowl and mix in the remaining Montreal Steak Seasoning ingredients.
Umami Compound Butter
Set your Memphis Grill to 400°F in indirect flame with the indirect insert.
Lightly brush the beef marrow bones with extra virgin olive oil and season with Montreal steak seasoning. Place the beef marrow bones in your grill and close the lid. Cook until the bones are golden brown and the marrow starts to bubble on the surface, about 25 minutes. Scrape the marrow of the bones and reserve for the umami butter.
In a large bowl, mash together the smoked bone marrow with the softened butter and other umami compound butter ingredients until well combined. Transfer to a sheet of parchment paper and roll into a log, twisting the ends to tighten. Refrigerate at least 20 minutes before serving.
Wood Fired Surf and Turf
Set your Memphis Grill to 300°F in indirect flame with the indirect insert. We recommend using a blend of apple and mesquite wood pellets.
Place lobster tails shell side up on a cutting board. Using kitchen shears or scissors, cut through the shell lengthwise, stopping at the last segment before the tailfin. Slide a spoon between the shell and the meat to separate, then pull the meat from the tail to make it sit on the shell.
Season tomahawk steaks and lobster tails with Montreal steak seasoning. Top each lobster tail with a slice of umami compound butter.
Place the tomahawk steaks and lobster tails in your grill. Insert a meat probe in one of the steaks and set the target internal temperature to 105°F. Cook lobster tails until meat is opaque and lightly brown.
Once lobster tails are done and steaks have reached 105°F, remove from the grill.
Remove the indirect insert and replace it with the direct flame insert. With the lid open, select direct flame and set flame level to Xtreme.
When the grill is hot, place tomahawk steaks back on the hot grate and sear to desired doneness, leaving the lid open; 125°F for rare, 130°F for medium-rare, 140°F for medium, 150°F for medium well and 160°F for well done.
For a side of grilled broccolini, lightly oil the broccolinis and season with the Montreal steak seasoning. Cook over direct flame until lightly charred.