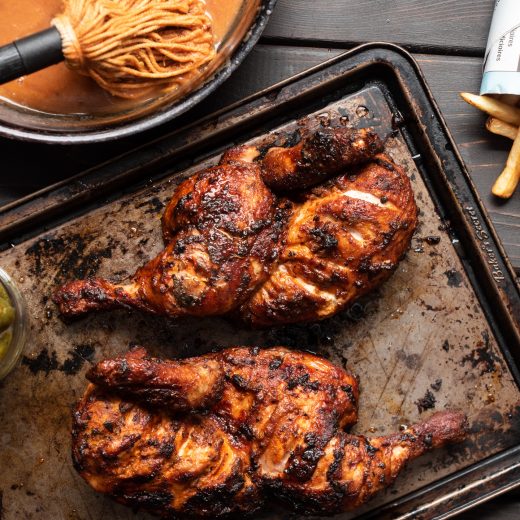 You have a whole chicken to cook and are debating whether to grill it or smoke it? If you've never tried wood fire cooking, I highly recommend it. You'll get that crispy, slightly charred chicken skin of your dreams, as well as perfectly balanced wood smoke flavors. To season our wood-fired chicken, we made a finger hot pepper wet rub with roasted finger hot peppers, garlic, lemon and other spices. The acidity of lemons and the spiciness of roasted finger hot chiles complement the wood fired flavors perfectly. Although we could have stopped there, we also made a North Carolina Style Mop Sauce to baste the chicken while it cooks, keeping it moist and even more flavorful.
This wood-fired chicken is not only delicious, but it's also a lot of fun to cook. Make this wood-fired chicken recipe when you have friends and family over and you'll notice that everyone gravitates toward the grill as the slow roasting chicken fat drips into the flames and emits that irresistible aroma. We collaborated with KUDU to develop this recipe using the KUDU open fire grill, and the results are spectacular.
Ingredients
Chicken
1 Whole chicken, 3 to 5 lb
Finger Hot Pepper Wet Rub
6 to 8 Finger hot peppers, charred and peeled
2 Cloves garlic, crushed
2 tbsp - Kosher or coarse sea salt
2 tbsp - Smoked paprika
1 tbsp - Freshly cracked black pepper
1 tsp - Ground mustard
Juice and zest from 1 large lemon
3 tbsp - Extra virgin olive oil
North Carolina-Style Mop Sauce
½ cup - Apple cider vinegar
½ cup - Water
Juice from 1 large lemon
¼ cup - Dark brown sugar
2 tbsp - Tomato paste
1 tbsp - Dijon mustard
1 tbsp - Kosher or coarse sea salt
1 tbsp - Freshly cracked black pepper
1 tsp - Worcestershire sauce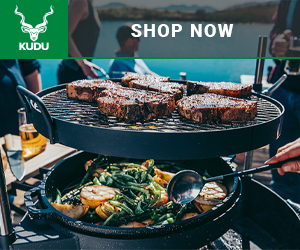 Preparation
Build a fire in the KUDU: empty a full chimney of hot coals and stack 2 to 3 logs on top of the coals. Set up the stainless steel grate and adjust its height so that the flames barely touch it.
Grill the finger hot peppers until well charred on both sides.
Remove the charred hot peppers from heat and place into a bowl. Cover the bowl with plastic wrap or aluminum foil and wait 15 minutes for the peppers to soften.
Using a knife, gently scrape the skin from the charred peppers then slice the flesh into chunks. Transfer to a mortar and pestle or food processor along with the garlic cloves and kosher or coarse sea salt and crush or pulse to make a paste. Add smoked paprika, cracked black pepper, ground mustard, lemon juice and zest, and olive oil and mix to combine;
Using kitchen shears or a sharp knife, remove the chicken's backbone and cut through the breastbone from the inside to separate the chicken into halves. make several 1/4-inch deep cuts into the skin side of the chicken to allow the wet rub to penetrate the meat, then apply the hot pepper mixture to both side of the chicken halves. Let marinate in the refrigerator for 1 to 2 hours;
Place the marinated chicken halves on the hot grill grate and cover with the KUDU Smoker Lid. Move and turn the chicken as needed to achieve lightly charred skin and even cooking.
While the chicken is cooking, place a cast iron skillet into the fire, preferably below the chicken to catch drippings. Combine all North Carolina-Style ingredients into the skillet and let cook for 5 to 10 minutes. Using a basting mop, brush the chicken halves with the North Carolina-Style sauce to keep them moist throughout cooking.
Once the chicken reaches an internal temperature of 165°F, remove from heat and let rest at room temperature for 10 minutes before serving.