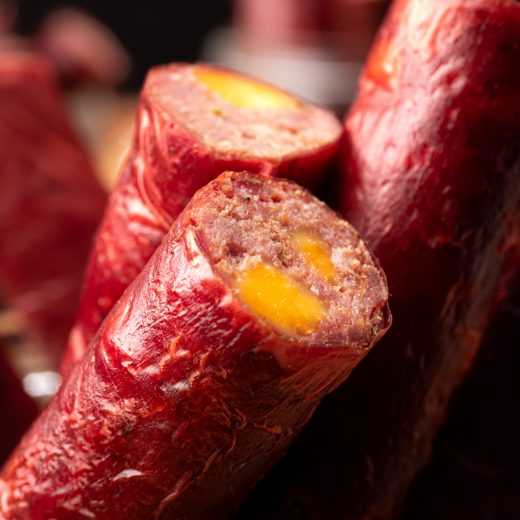 Homemade beef sticks are a tasty and convenient snack that have gained popularity in recent years. But the history of beef jerky goes back much further, to ancient civilizations where it was a common practice to preserve meat by drying it in the sun or smoking it over a fire. Indigenous people in the Americas would dry strips of buffalo, deer, and other game meat to create a portable, high-protein snack that could be easily stored and carried on long journeys. In the early 20th century, jerky became popular in the United States and has since become a popular snack around the world.
I've tried many different recipes for homemade beef sticks in my smoker, but this one stands out above the rest. The combination of spices and flavors is perfectly balanced, and the addition of El Yucateco hot sauces adds an extra layer of heat and flavor. There are three different flavor options to choose from, and my personal favorite is the Jalapeño Cheddar variety, where the creamy cheese balances out the spicy kick of the hot sauce. These beef sticks are great as a snack on their own or as part of a larger spread, and the fact that they can be made at home only adds to their appeal. If you're a fan of spicy, savory snacks, these smoked beef sticks are sure to satisfy.
Ingredients
Ground Beef Mix
12 lb - Beef round, eye or top
¼ cup - Fine salt
3 tbsp - Ground black pepper
3 tbsp - Smoked paprika
3 tbsp - Onion powder
3 tbsp - Garlic powder
2 tbsp - White sugar
1 tbsp - Mustard powder
2 ½ tsp - Prague powder #1 (see manufacturer's instructions)
Jalapeño Cheddar (for 1/3 of the ground beef mix)
6 oz - High temp cheddar cheese cubes
⅓ cup - Water
Honey Habanero (for 1/3 of the ground beef mix)
3 oz - Honey
⅓ cup - Water
Black Label & Bourbon (for 1/3 of the ground beef mix)
Tools & Supplies
Smoked collagen casings, 17mm to 21mm
Meat grinder and sausage stuffer
Wood chunks for smoking, preferably hickory, oak or pecan
Preparation
Preheat your smoker to 130°F

Slice beef into 1-inch thick strips. Place beef strips on a baking plate and put in freezer for 45 minutes;

Combine salt, ground black pepper, smoked paprika, white sugar, garlic powder, onion powder, ground mustard and prague powder #1 into a bowl. Pour the seasoning mixture onto the slightly frozen beef sticks and toss to combine.

Grind beef strips using a 10 to 12 mm plate, then repeat using a 4.5 mm plate.

Divide the ground beef into 3 equal portions to make the 3 beef sticks flavors. Add respective ingredients for each flavor and mix well.

Push ground beef mixture into a sausage stuffer and stuff casings according to manufacturer's instructions.

Place beef sticks in your smoker and toss a few wood chunks onto hot coals for smoking. Cook until the internal temperature of the meat reaches 165°F, increasing smoker temperature by 10°F every hour of cooking

Once beef sticks have reached their target internal temperature, remove from heat and immediately immerse them in ice water to stop the cooking process. Leave in ice water for about 10 minutes.

Cut beef sticks to desired length and serve.