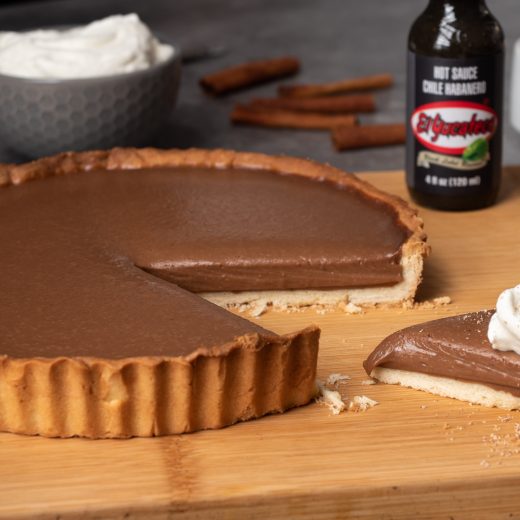 Satisfy your sweet tooth with this decadent Mexican Hot Chocolate Pie recipe. The combination of rich milk chocolate and the bold flavor of El Yucateco Black Label Reserve hot sauce creates a unique and delicious dessert that is sure to impress. The creamy filling is poured into a pre-baked pie crust and chilled until set, making it the perfect make-ahead dessert for any occasion. Serve with a dollop of whipped cream and a sprinkle of nutmeg for an extra special touch. This pie is sure to become a new favorite and is guaranteed to satisfy your appetite for something sweet and spicy.
Ingredients
1 9-inch Pie crust, store-bought or homemade, baked and cooled completely
½ cup - Milk
½ cup - Heavy cream
4 Egg yolks
12 oz - Milk chocolate, chopped
10 tbsp - Unsalted butter, melted
½ tsp - Salt
½ tsp - Ground cinnamon
¼ tsp - Ground nutmeg
Preparation
In a saucepan, whisk together milk, heavy cream and egg yolks. Heat over medium heat, stirring constantly with a rubber spatula until mixture registers 170°F and thickens slightly. Remove from heat and immediately add milk chocolate, stirring until fully melted.

Stir in melted butter, Black Label Reserve, salt, cinnamon and nutmeg. Transfer chocolate mixture to pie crust and refrigerate until filling is set and cold, minimum 3 hours, up to 24 hours.

Cut the pie into slices and serve with whipped cream and sprinkle with ground nutmeg, if desired.