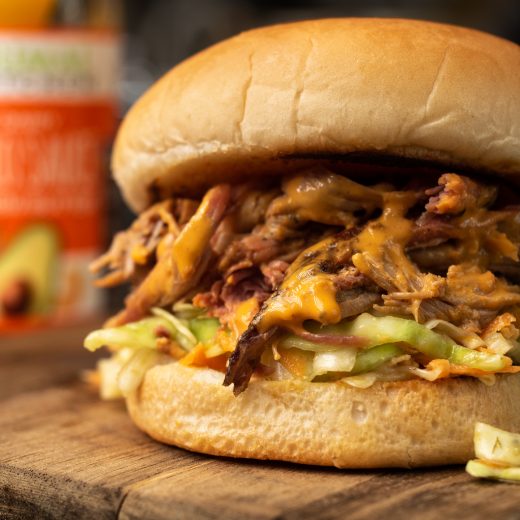 Ingredients
Pulled Pork
1 Pork shoulder, 7 to 8 lb
1 cup - (approx. 1 bottle) Primal Kitchen Buffalo Sauce Made with Cashew Butter
12 Burger buns
Rub
¼ cup - Paprika
¼ cup - Turbinado or raw sugar
3 tbsp - Coarse sea salt
2 tbsp - Ground black pepper
2 tbsp - Garlic powder
1 tbsp - Ground mustard
Bacon Ranch Coleslaw
8 cup - Green cabbage, thinly sliced
1 Carrot, shredded
6 Strips bacon, fully cooked and crumbled
⅔ cup - Primal Kitchen Ranch Dressing
2 tbsp - Apple cider vinegar
Salt and Pepper to taste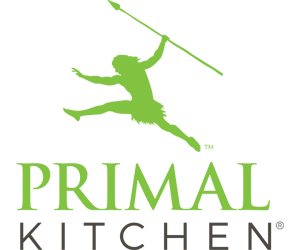 Preparation
Preheat your smoker to 250°F. If using a grill, set up your cooking zones for indirect heat;
Combine all Rub ingredients into a bowl. Generously season the pork shoulder on all sides with the spice blend;
Place the pork shoulder fat side up in your smoker or grill and toss a few wood chunks onto hot coals for smoking. Cook until the internal temperature of the meat reaches 170°F on an instant read thermometer, about 4 hours;
In a large mixing bowl, combine all Bacon Ranch Coleslaw ingredients. Set aside in the refrigerator;
Once the pork shoulder has reached 170°F internal, wrap in peach butcher paper or aluminum foil and continue cooking until the internal temperature of the meat reaches 205°F, about 2 to 4 hours;
Remove the pork shoulder from your smoker and let rest at room temperature for 45 minutes;
Using meat shredders or heat resistant kitchen gloves, shred the pork shoulder and discard any bones or chunks of fat;
Pour 1 cup of Primal Kitchen Buffalo Sauce Made with Cashew Butter on the pulled pork and mix to combine;
Assemble the sandwiches into toasted burger buns with bacon ranch coleslaw and pulled pork. Serve.