Smoked pulled pork is at the root of all that is BBQ. Mmmmm, stringy strands of swine soaked in succulent sauce and stacked in a steamy sandwich. These honey pulled pork subs revisit a classic with style. End to end and top to bottom, the BBQ belt hosts a variety of different yet all so succulent styles of smoked pulled pork. From the blaring yellow South-Carolina mustard sauce to the darker molasses-based Memphis BBQ sauce, smoked pulled pork is a must when you travel through these parts of the Southern-United-States. For as long as the South has been southern, smoked pulled pork has been synonymous with hospitality and social gatherings. These bad boys will not be an exception to the rule and will have your guests raving for more pulled pig. Some say the low and slow cooking style needed to make the perfect smoked pulled pork is associated with the slower and more relaxed general demeanor of southern folk. Others attribute it to poverty in a once less prosperous South that only had access to tougher cuts of meat. This called for longer cook times to break down the fibers and create tender dishes. Regardless of the history, I think we can all agree that smoked pulled pork is darn delicious!
Ingredients
Pulled Pork
1 Pork shoulder, 7 to 8 lbs
8 Sub rolls
2 cup - Apple cider vinegar
Roasted Honey Mustard Sauce
1 cup - Apple cider vinegar
6 tbsp - Butter
¼ cup - Yellow Mustard
2 ½ tbsp - Ketchup
2 tbsp - Honey
Tools and Supplies
Spray bottle
Wood chunks for smoking, preferably oak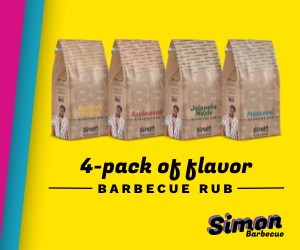 Preparation
Preheat your smoker to 275°F.

Generously season the pork shoulder on all sides with

Roasted Honey Barbecue Rub

.

Place the pork shoulder in your smoker and toss a few wood chunks onto hot coals for smoking. Cook until the internal temperature of the meat reaches between 205° and 210°F, about 6 to 8 hours. Spray with apple cider vinegar every hour to keep moist.

Meanwhile, make the Roasted Honey Mustard Sauce: combine all ingredients into a skillet or saucepan over medium-high heat and whisk until butter is fully melted. Set aside.

Once the pork shoulder has reached its targeted internal temperature, remove from the smoker. Loosely cover with aluminum foil and let rest at room temperature for 45 minutes to 1 hour.

Using heat resistant kitchen gloves or meat shredders, shred the pork shoulder and discard any bones or chunks of fat.

Assemble the sandwiches into lightly toasted sub rolls with pulled pork and roasted honey mustard sauce.