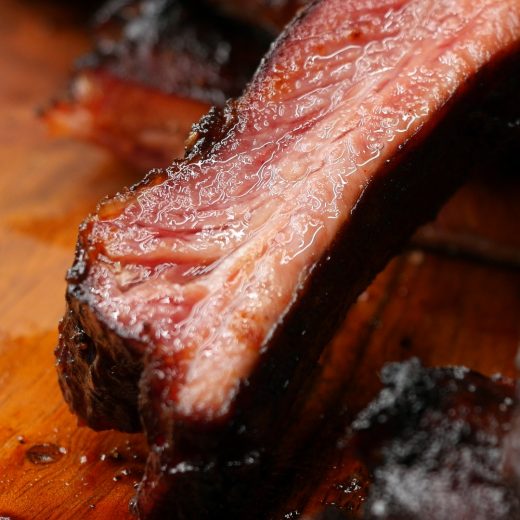 Introducing a blast from the past, our delicious Cherry Cola Spare Ribs! This nostalgic recipe pays homage to the classic soda that has been a staple in American households since 1985. As a child of the 90s, I was feeling a wave of nostalgia and decided to revisit some of my favorite movies and video games from my teenage years. During this retro phase, I set out to create the ultimate cherry cola BBQ sauce, and after five rounds of experimentation, I finally hit the perfect balance of flavors.
This sauce is the perfect blend of sweet and tangy, with a hint of smokiness that will transport you back to those carefree summer days spent chilling with friends. The rich, dark cherry cola taste is enhanced by a touch of molasses, giving it a subtle depth of flavor. The tangy kick comes from the addition of Worcestershire and apple cider vinegar, which perfectly balances out the sweetness.
I had the pleasure of introducing this sauce to my friends at a retro video game night, and it was a big hit! One of my friends actually made a gallon of the sauce at home, presumably to douse everything from ribs to ice cream. Okay, maybe not ice cream, but you get the idea. This sauce was a hit.
If you want to relive those 90s memories while adding a unique twist to your BBQ routine, try our Cherry Cola Spare Ribs – you won't be disappointed!
Ingredients
Cherry Cola BBQ Sauce
1 cup - Ketchup
1 cup - Cherry cola
½ cup - Molasses
½ cup - Apple cider vinegar
3 Chipotle chile in adobo sauce, finely chopped
1 tbsp - Worcestershire sauce
1 tsp - Black pepper
2 tsp - Smoked paprika
2 tsp - Simon Barbecue Montreal Rub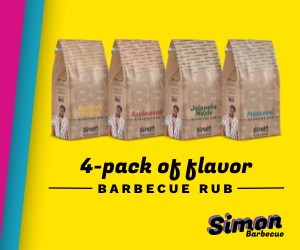 Preparation
Preheat your smoker to 225°F or set up a charcoal grill for indirect heat by lighting a chimney starter and placing the coals on one side. Adjust the vents to bring the temperature to around 225°F.
Trim any excess fat from the spare ribs and remove the membrane from the back.
Rub spare ribs on both sides with Simon Barbecue Montreal Rub.
Place spare ribs in your smoker or on the indirect heat side of your charcoal grill. Toss 1 – 2 wood chunks onto hot coals for smoking.
In a saucepan or skillet, mix all the ingredients for the Cherry Cola BBQ Sauce and simmer for 10 minutes.
Cook the ribs for 4-5 hours or until the internal temperature of the meat reaches 205°F. We recommend using a wireless cooking thermometer if you have one.
During the last hour of cooking, brush spare ribs with Cherry Cola BBQ Sauce.
Once spare ribs have reached 205°F internal temperature, remove from the smoker or grill and let them rest for 15-20 minutes. Cut  into desired portions and serve them with extra Cherry Cola BBQ Sauce.