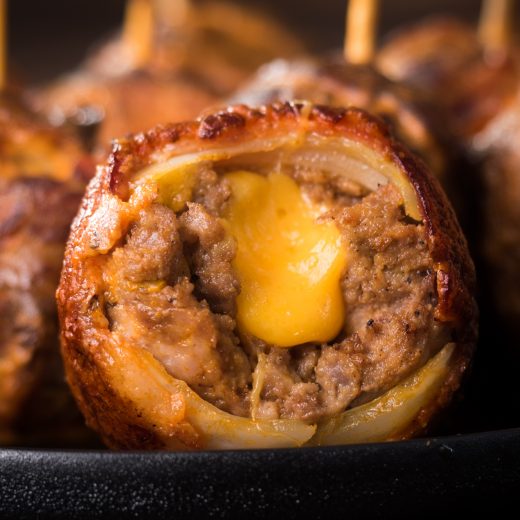 Spicing up traditional BBQ flavors, I crafted this cheese-stuffed habanero fireballs recipe with ample heat and a gooey cheese center. Perfect for anyone seeking a fiery bite dish inspired by the starters of popular steakhouse chains, this smoky, piquant concoction will delight the tastebuds of any spicy food enthusiast. While I dabbled with various cheese options for the fireballs, I ultimately settled with sharp cheddar to perfectly complement the smokiness of the BBQ sauce and bacon. The final dish, though packing a punch, isn't overpoweringly spicy, allowing you to indulge in their mouthwatering flavors without fear of your tongue catching fire.
Ingredients
Fireballs
½ lb - Ground beef
½ lb - Ground pork
⅓ cup - BBQ sauce
2 Habanero peppers, minced
¼ cup - Breadcrumbs
1 tsp - Ancho chile powder
1 tsp - Onion powder
1 tsp - Salt
1 tsp - Black pepper
1 Egg
16 Cubes or sharp cheddar
6 Medium sized yellow onions
16 Slices of bacon
Buffalo Sauce
½ cup - Butter
¾ cup - Louisiana Hot Sauce, or any type of cayenne hot sauce
Additional equipment
Wood chips for smoking, preferable hickory, oak or apple
Wooden toothpicks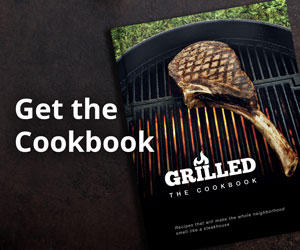 Preparation
Preheat your grill for a two zone cooking – having hot coals on one side and nothing on the other;
In a large bowl, combine the ground beef, ground pork, BBQ sauce, breadcrumbs, minced habanero peppers, onion powder, ancho chile powder, salt, black pepper and the egg and form 16 equal sized patties– it is recommended that you use latex kitchen gloves to prevent burns on your hands coming from the heat of  the habanero peppers while mixing the ingredients;
Push a cube of sharp cheddar cheese into each meat patties, then shape into a ball;
Slice your knife up to the center of each onion, then peel the exterior; Carefully separate all onion shells and set aside – you should get about 3 shells per onion; Gently push a meatball into each onion shell then wrap a bacon slide all the way around  and secure with a toothpick;
Place the meatballs in your grill for indirect cooking and close the lid; Cook for about 30 minutes at 350°F, or until the internal temperature of the meat reads 150°F on an instant read thermometer;
While the meatballs are cooking, combine the Buffalo Sauce ingredients into a saucepan and bring to a boil for 2 to 3 minutes;
Brush each meatball with Buffalo Sauce then move over direct heat for a final sear before removing from the grill; Serve with sour cream or your favorite dipping sauce and enjoy.