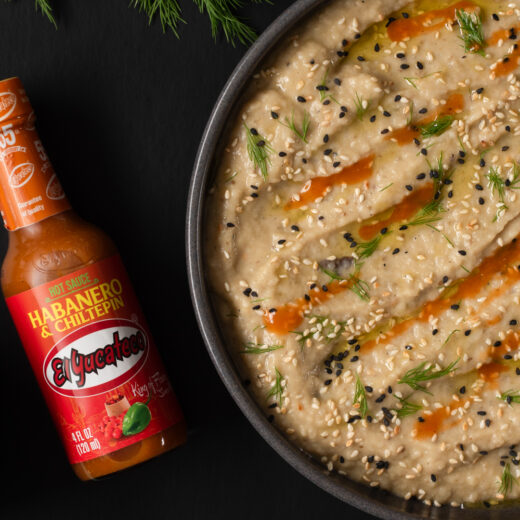 Ingredients
2 Large eggplants
3 tbsp - Extra virgin olive oil, plus more to drizzle
3 tbsp - Tahini sauce
Juice from half a lemon
1 tbsp - Honey
3 Garlic cloves, minced
2 tbsp - Fresh dill, chopped
⅓ cup - Greek yogurt
Salt, to taste
Toasted sesame seeds
Preparation
Preheat you charcoal grill with a full chimney of hot coals. We recommend using lump charcoal instead of briquettes.
Once the coals are white-hot, place the whole eggplants directly on the coals. Char them, turning occasionally, for about 10-15 minutes or until the skin is blackened and the flesh is soft.
Carefully remove the eggplants from the coals and let them cool slightly. Once cool, peel off the charred skin.
In a mixing bowl, combine the charred eggplant flesh, El Yucateco Habanero & Chiltepin Hot Sauce, Tahini sauce, lemon juice, honey, olive oil, minced garlic, and fresh dill. Mix well until smooth. Fold in the Greek yogurt, and season with salt to taste.
Transfer the dip to a serving bowl and drizzle with additional El Yucateco Habanero & Chiltepin Hot Sauce, olive oil, and season with fresh dill and toasted sesame seeds.