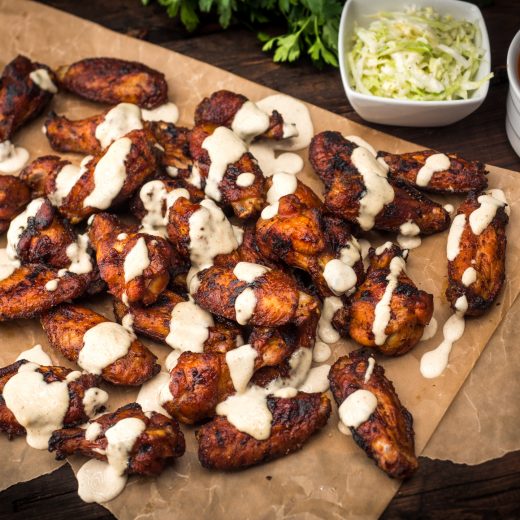 There is no doubt that barbecue is worshipped in the state of Alabama. Over the years, their style of grilling has influenced other states of the southern barbecue belt and beyond. Local pitmasters take pride in their craft and lead by example, making any piece of meat distinctively flavorful. One of their unique creations, staple of Northern Alabama barbecue, is a no-bake, mayonnaise based barbecue sauce called Alabama white sauce. Originating from the city of Decatur along the Tennessee River, the Alabama white sauce has become an emblem of their barbecue history.
Primarily made from a mix of mayonnaise, vinegar, horseradish and other spices, this easy to make table condiment provides endless possibilities. Nevertheless, it is with chicken that the Alabama white sauce delivers all its magic – thanks to its creamy, peppery and tangy taste enhancing the flavors while also helping the meat stay moist and tender. Although it is common for cooks to dunk their chicken wings in more classic barbecue sauces, this Alabama alternative is instead poured over freshly cooked chicken, ensuring a very enjoyable side dish, game day favorite, or late night snack.
Ingredients
Chicken Wings
6 ½ lb - Chicken wings (about 30 wings)
¼ cup - Olive oil
Wood chunks for smoking, preferably oak or pecan
Dry Rub
3 tbsp - Paprika
2 tbsp - Brown sugar
2 tbsp - Salt
1 tbsp - Garlic powder
2 tsp - Onion powder
1 tsp - Guajillo powder
1 tsp - Black pepper
Alabama White Sauce
2 cup - Mayonnaise
⅓ cup - Apple cider vinegar
¼ cup - Horseradish sauce
3 tbsp - Lemon juice
1 tbsp - Dijon mustard
2 tsp - White pepper
1 tsp - Salt
½ tsp - Garlic powder
½ tsp - Cayenne powder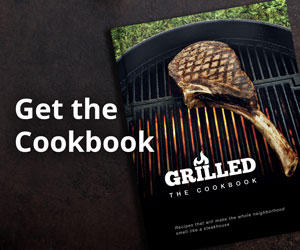 Preparation
Preheat your grill for indirect cooking at 400°F – if you are using a charcoal grill, spread lit charcoal across half of the bottom grate. If you are using a gas grill, turn half of the burners to high and leave the other half closed;
Combine all Dry Rub ingredients into a bowl then sprinkle over the wings to give them an equal coating;
Place the chicken wings in your grill for indirect cooking and toss a wood chunks or two onto hot coals for smoking; close the lid and cook the wings until the internal temperature of the meat reaches 165°F on an instant read thermometer. About 30 minutes;
While the chicken wings are cooking, whisk all Alabama White Sauce ingredients into a bowl and set aside;
Once the chicken wings have reached their targeted temperature, removed them from the grill and pour some Alabama White Barbecue Sauce on top. Serve and enjoy!