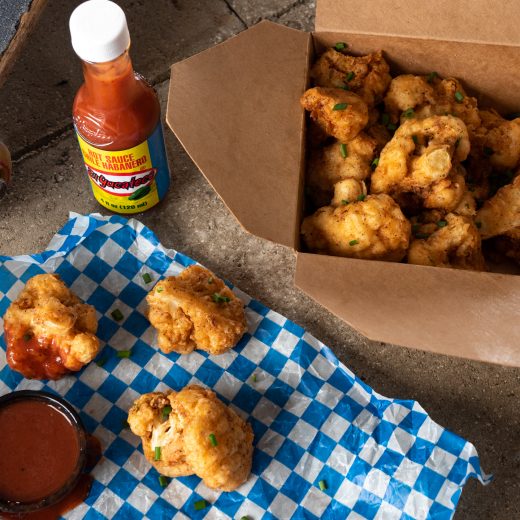 I've never given much thought about cauliflower wings, until the day I stepped into a food truck and discovered these crispy, spicy, and divine deep fried cauliflower wings. One bite and I was smitten. The thought of recreating these wings at home and experimenting with different recipes filled my mind.
Thus began my journey of perfecting deep fried cauliflower wings. I've been fine-tuning the recipe ever since, and now, whenever I have vegetarian guests over, these cauliflower wings steal the show. They're crispy, flavorful, and an outstanding appetizer.
The El Yucateco Red Habanero Sauce is a key ingredient that distinguishes these cauliflower wings. It adds a a fiery zing and a burst of flavor that perfectly complements the natural sweetness of the cauliflower. I use cold plain carbonated water in the batter for that extra light and crispy texture. The dipping sauce, a concoction of ketchup, brown sugar, apple cider vinegar, Worcestershire sauce, and smoked paprika, takes these wings to new heights.
If you're looking for a new and delicious way to enjoy cauliflower, these deep fried cauliflower wings is a must-try. It'll change your perception of this vegetable and have you hooked like me.
Ingredients
Cauliflower Wings
1 Head of cauliflower, cut into bite sized florets
1 cup - All-purpose flour
1 tbsp - El Yucateco Red Habanero Sauce
½ tsp - Salt
½ tsp - Onion powder
½ tsp - Garlic powder
¼ tsp - Turmeric
¼ tsp - Black pepper
¼ tsp - Baking powder
1 cup - Cold plain carbonated water
Vegetable oil for deep frying
Hot and smoky dipping sauce
½ cup - Ketchup
2 tbsp - El Yucateco Red Habanero Sauce
2 tbsp - Brown sugar
1 tbsp - Apple cider vinegar
2 tsp - Worcestershire sauce
2 tsp - Smoked paprika
Preparation
Preheat fryer oil to 375°F.

Whisk together all dipping sauce ingredients in a bowl and set aside.

Combine flour, salt, onion powder, garlic powder, turmeric, pepper and baking powder in a bowl. Add carbonated water and stir gently with a spatula until no lumps remain.

Dip cauliflower florets into the batter to coat them completely.

Fry the florets in batches for about 3 minutes or until golden brown.

Transfer the cauliflower wings onto a baking sheet lined with paper towels. Season with salt and serve with the dipping sauce.