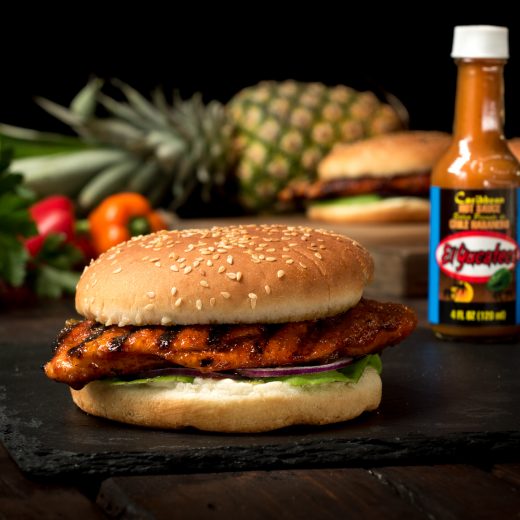 Imagine this: a balmy summer evening, the scent of charcoal wafting through the warm air, and the sizzle of succulent chicken grilling to perfection. Friends and family start to gather around, salivating at the thought of taking a bite out of an adventurous burger with a tangy twist. This is no ordinary BBQ night – what's on the menu are the coveted Pineapple Habanero Chicken Burgers. After taking that first bite, you'll feel the sweet, fruity flavors juxtaposed against that addictive kick of charcoal-grilled chicken. It's a culinary match made in heaven. Picture yourself hovering over those glowing coals, grilling the chicken just right – not too dry, but bursting with flavor, as those spicy aromas drift up to your nose. The genius part of this recipe comes next: the Pineapple Habanero Chutney. You'll be delighted as you watch that golden, sticky glaze lattice over the chicken, expertly crafting a caramelized coating that will leave everyone craving more. Besides its empowering flavors, there's something about this chicken creation that sparks a new level of camaraderie. Your guests might pat you on the back, trade stories of how they never thought pineapple and habanero would mesh so beautifully in a burger, or challenge one another on who can handle the heat. Assembling these juicy burgers together, it'll turn into a contest of burger artistry: crispy lettuce, piquant red onions, and that unbeatable chutney vying for prime position on a cloudlike bun. As you stand by the grill, you'll be reminded of why cooking and sharing food with loved ones is the ultimate bonding experience. And just as the summer sun begins to set, plates stacked high with Pineapple Habanero Chicken Burgers will pass from hand to hand like cherished tokens of friendship – your signature dish, leaving a lasting impression in every heart and stomach it encounters. Have I convinced you?
Ingredients
Chicken Burgers
6 Boneless chicken breasts
1 tbsp - Paprika
1 tbsp - Salt
2 tsp - Black pepper
1 tsp - Onion powder
1 tsp - Sugar
1 tsp - Chili powder
⅓ cup - Mayonnaise
6 Boston lettuce leaves
½ Red onion, sliced
6 Burger buns
Pineapple Habanero Chutney
2 ½ cup - Fresh pineapples, finely diced
1 ¾ cup - Sugar
¾ cup - White vinegar
3 tbsp - El Yucateco Caribbean Habanero Sauce
½ Orange bell pepper, diced
1 Garlic clove
½ tsp - Red pepper flakes
¼ tsp - Salt
Preparation
In a blender of food processor, combine the diced pineapples, orange bell peppers, white vinegar, garlic clove and El Yucateco Caribbean Hot Sauce and blend to a liquid puree; Transfer the pineapple habanero mixture to a saucepan or skillet and whisk in the white sugar, red pepper flakes and salt; Bring to a boil to 30 minutes;
Preheat your grill to 400°F;
Place a chicken breast on a cutting board and hold it flat with the palm of your hand. Using a sharp butcher knife or chef's knife, carefully slice the chicken breast horizontally up to one half of an inch from the edge. If done right, you should be able to open the chicken breast like a book. Repeat with all chicken breasts;
Combine the paprika, salt, black pepper, onion powder, sugar and chili powder into a bowl and use to season each chicken breast on both side;
Place the chicken breasts on the grill over direct heat and cook with the lid closed until the internal temperature of the meat reach 165°F on an instant read thermometer, flipping the chicken breasts halfway though cooking. Total cooking time should be about 6 to 8 minutes per side. Brush the chicken breasts on both sides with the Pineapple Habanero Chutney for the last 30 seconds of grilling;
Assemble your sandwiches with grilled burger buns, mayonnaise, lettuce, red onions, a grilled chicken breasts and 2 – 3 tbsp of Pineapple Habanero Chutney; Enjoy.