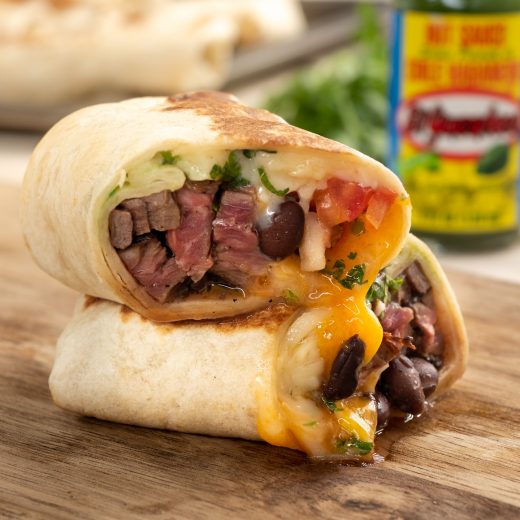 Introducing my all-time favorite grilled steak burritos recipe, inspired by the amazing flavors I encountered during my trips to Albuquerque for the Hot Air Balloon Fiesta. The secret to these mouthwatering grilled steak burritos lies in the homemade marinade using El Yucateco Green Habanero Hot Sauce – my current favorite from their lineup.
On my two visits to Albuquerque, I had the pleasure of indulging in the best grilled steak burritos I've ever tasted. The incredible taste left such an impression on me that I decided to recreate those flavors in my own kitchen. This recipe is a product of my culinary journey to replicate those unforgettable grilled steak burritos.
The marinade, featuring the Green Habanero Sauce, works wonders not just for skirt steaks but also for other cuts of beef. It brings out a distinct, spicy, and delicious flavor that truly elevates your grilled steak burritos experience. You can easily adapt this recipe for other cuts of beef like flank steak or flat iron steak, as the marinade complements these cuts equally well.
I remember hosting a gathering at my home where I served these grilled steak burritos to my friends. We ended up eating copious amounts of these delectable treats, and with a few too many drinks to wash them down, we had an unforgettable night filled with laughter and good company. The grilled steak burritos were a hit, and everyone couldn't stop raving about the rich flavors and succulent meat.
In conclusion, if you're looking to impress your friends and family, or simply want to treat yourself to a delicious meal, these grilled steak burritos are a must-try. The combination of El Yucateco Green Habanero Hot Sauce and a perfectly grilled steak creates an unmatched flavor that will have you reminiscing about your best grilled steak burritos experiences. Don't hesitate – grab the ingredients, fire up your grill, and get ready to fall in love with these incredible grilled steak burritos.
Ingredients
Burritos
2 Skirt steaks, 1.5 to 2 lbs each
1 ½ cup - Black beans, drained and rinsed
1 ½ cup - Pico De Gallo, homemade or store bought
¾ cup - Cheddar cheese, shredded
¾ cup - Pepper jack cheese, shredded
6 Large flour tortillas
Preparation
Combine all Habanero Steak Marinade ingredients into a bowl. Place the skirt steaks in a large reclosable plastic bag and pour the marinade into the bag. Refrigerate and let marinate for 4 hours;
Preheat your grill to 500°F;
Place the marinated flank steaks on your hot grill grate and cook to desired doneness, between 3 to 6 minutes per side.
Remove steaks from the grill and let rest at room temperature for 10 minutes. Place a cast iron skillet or griddle in your grill to preheat.
Cut the steaks across the grain into ¼ inch thick slices.
Assemble the burritos into flour tortillas with grilled steak, black beans, pico de gallo, cheddar and pepper jack cheese and a few dashes of El Yucateco Green Habanero Hot Sauce.
Place the burritos on the hot cast iron skillet or griddle and toast for 15 seconds per side. Remove from the grill and serve.