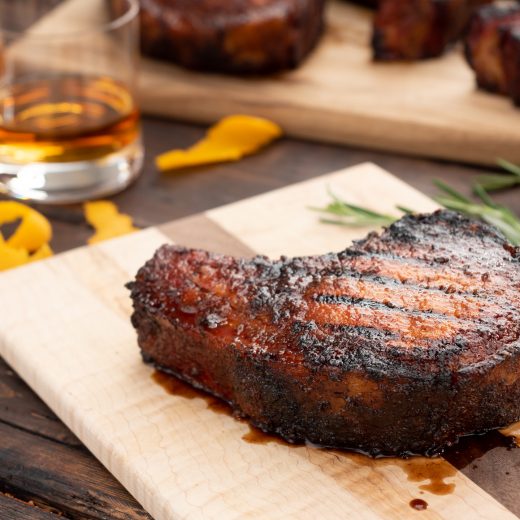 Sitting on your favorite chair, fresh haircut and perfectly tailored trousers, feeling like a hundred bucks on a crisp Fall evening. Old fashioned drink in hand, the definition of a dashing gentleman, a smooth talker with an enviable charm and fast quips. Perfectly describing the mood set by this grilled pork chops recipe. Elegant and yet, inspired by authentic barbecue flavors. Slow cooked to perfection and tender, smokey and classy, this recipe is grilled pork chops at its very best. The most popular cut from pork loin surely also deserves a unique and memorable sauce, and thus, the rosemary bourbon butter glaze meets all expectations. The orange zest compliments the bourbon and butter to bring out unique and comforting flavors. Fully covered for a brilliant and tasteful look, this bourbon butter grilled pork chops recipe will truly warm up your night!
Ingredients
Pork Chops
4 Bone-In Pork Chops, 2 inch thick
¼ cup - Olive oil
2 tbsp - Smoked paprika
2 tbsp - Kosher salt
1 tbsp - Garlic powder
2 tsp - Mustard powder
2 tsp - Black pepper
½ tsp - Cayenne powder
Wood chunks for smoking, preferably oak
Rosemary Bourbon Butter Glaze
1 cup - Brown sugar
½ cup - Butter
½ cup - Bourbon whiskey
¼ tsp - Kosher salt
¼ tsp - Black pepper
2 strips Orange zest
1 sprig Rosemary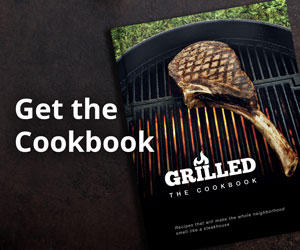 Preparation
Preheat your grill for indirect cooking at 300°F.

Brush pork chops on both sides with olive oil. Combine smoked paprika, kosher salt, garlic powder, mustard powder and black pepper into a bowl then sprinkle evenly on both sides of the chops.

Place pork chops in your grill over indirect heat and toss one or two wood chunks onto hot coals for smoking. Close the lid and cook until the internal temperature of the meat reaches 125°F on an instant read thermometer, about 30 minutes.

While the chops are cooking, make the glaze: combine all Bourbon Butter Glaze ingredients into a saucepan and bring to a simmer for 6 to 8 minutes. Remove from heat and set aside.

Brush pork chops with glaze and move over direct heat. Cook until the internal temperature of the meat reaches 145°F on an instant read thermometer, about 1 to 2 minutes per side.

Remove chops from the grill and let rest at room temperature for 10 minutes before serving.