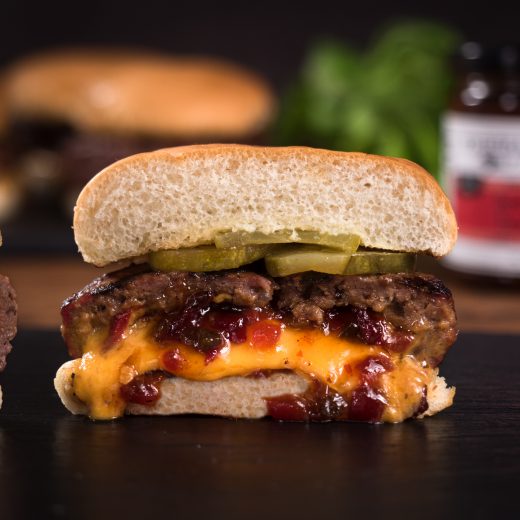 The Juicy Lucy burgers were invented in a South Minneapolis bar in the 1950s. Surely an amazing contribution to the American cuisine, the Juicy Lucy burgers look just like traditional burgers with one exception; American cheese is stuffed inside the burger patty instead of being placed on top of it. Meant to be slightly messy, the cheese core melts while the Juicy Lucy burgers are on the grill, transforming them into cheese bombs ready to burst with flavors at the first bite. For this particular Juicy Lucy burgers recipe, we decided to take this true American classic up a notch and combined the American cheese inside the burgers with a decadent hot pepper bacon jam. For the final touch, a special burger sauce, exclusively crafted for Juicy Lucy burgers, eliminates the need for any additional condiments.
IMP – Just don't forget to give your guests a friendly warning against the impending cheese explosion.
Ingredients
Burgers
2 ½ lb - Ground beef
6 Slices of American cheese
2 tsp - Salt
2 tsp - Ground black pepper
Dill pickles, sliced
6 Burger buns
⅓ cup - Melted butter
Additional
Parchment paper, cut into squares of about 6 inches
Cast iron skillet or burger press (optional)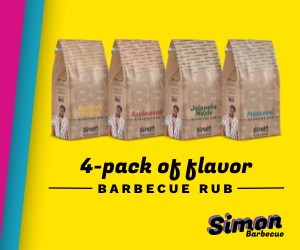 Preparation
Preheat your grill at 350°F;
Separate the ground beef into 12 equal sized portions; Place a beef patty between two layers of parchment paper and press down to a 1/4 inch flat patty using a cast iron skillet, a burger press, or your hands; Fold a slice of American cheese and place in the center of the beef patty then add 1 tbsp of Hot Pepper Bacon Jam on top; Close with another 1/4 inch flat patty by pinching  and pushing the edges to secure the cheese and jam inside then season with salt and pepper to taste; Repeat for each burger;
Brush the interior of each burger bun with melted butter;
Make the burger sauce: combine all Burger Sauce ingredients into a bowl and mix; Set aside in the refrigerator;
Place the burgers on your hot grate and close the lid; Cook for 3 to 4 minutes per side or until desired doneness; Grill the buns for 10 to 15 seconds;
Assemble each Juicy Lucy Burgers between two grilled buns with a spoonful of burger sauce, a grilled beef patty and 3 pickles; Serve and enjoy.