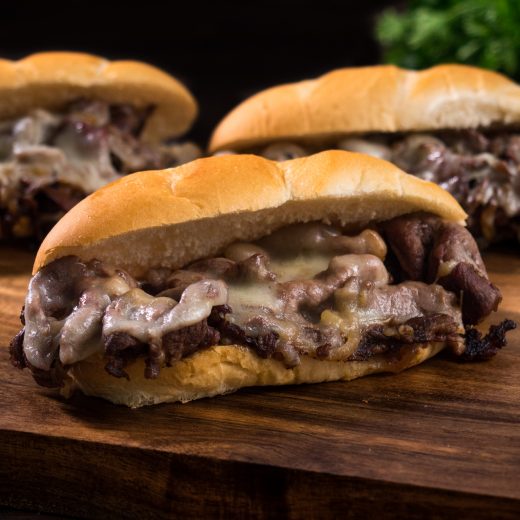 Although this long time Philadelphia classic needed no reinvention, we couldn't resist to the temptation of making our own Grilled version. While staying true to the ingredients used in a classic cheesesteak recipe, our take incorporates wood-fired flavors and a raging hot volcanic grilling stone used as a cooking surface. Make this cheesesteak recipe even more authentic by substituting provolone cheese for a healthy dose of Cheez Whiz and prepare yourself for a memorable sandwich-eating experience.
Ingredients
2 lb - Ribeye roast
½ tbsp - Garlic salt
1 tsp - Black pepper
3 tbsp - Olive oil
2 White onions, thinly sliced
12 Slices of provolone cheese
3 to 4 Hoagie rolls
Also needed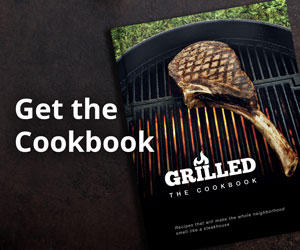 Preparation
Leave ribeye roast 45 minutes to 1 hour in the freezer to make easier to slice;
Preheat your grill to high heat, between 400 and 450°F, with your grilling stone inside;
Cut whole ribeye roast across the grain into ⅛ thick slices, or as thin as you can; Season the meat with garlic salt and ground black pepper to taste;
Sauté the onions on your grilling stone with olive oil until golden brown; Move onions toward the edge of the stone to make room for the beef and spread the meat evenly across the stone; Add a handfull of wood chips onto hot coals and close the lid; Cook 4 to 6 minutes;
Combine grilled meat and onions and continue to cook until desired doneness; Divide into 3 to 4 servings then place slices of provolone cheese on top of each portion; Close the lid and wait 30 seconds for the cheese to melt.
With a barbecue spatula, carefully transfer each meat and onion servings into a hoagie roll. Serve directly.