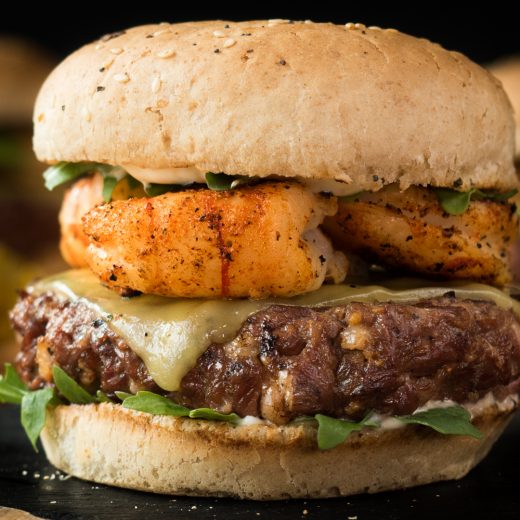 Although surf and turf's origin is unclear, its popularity is indisputable. This main course, combining seafood and red meat, has been an item of choice on steakhouse menus since the mid 60s. While usually served as the classic lobster tail and filet mignon combo, this iconic duo is also known in many other variations including this impressive surf and turf burger. An absolute delight for both steak and seafood lovers, the surf and turf burger will surely inspire and captivate the attention of any burger or barbecue enthusiast. With prime beef sirloin and jumbo shrimp, this surf and turf burger is the incontestable symbol of a luxurious and grandiose meal!
Ingredients
2 lb - Beef sirloin
¼ cup - Caribeque A.P. Rub
1 tbsp - Breadcrumbs
1 Egg
4 Slices of Swiss cheese
12 Jumbo shrimp (8-12)
Burger buns
1 cup - Rocket
Aïoli Mayo
⅔ cup - Mayonnaise
1 tbsp - Whole grain mustard
1 Clove garlic, crushed
1 tsp - Oregano
½ tsp - Salt
The juice from half a lemon
Partner
For a limited time, our friends at Caribeque offers you 10% of your next purchases!
Use the following discount code at checkout:
GRILLED10 at Caribeque's Shop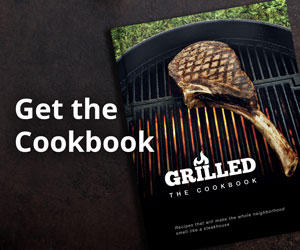 Preparation
Preheat your grill for direct grilling over medium heat;
Mix all of the Aïoli Mayo ingredients together and set aside in the refrigerator;
With a sharp Chef's Knife, cut the beef sirloin into thin slabs, slice the slabs into thin spaghetti like strips, then turn 90 degrees and cut into 1/8 to 1/4 long pieces; You can also use a meat grinder if you have one;
Mix the ground sirloin with 2 tbsp of Caribeque A.P. Rub, 1 tbsp of breadcrumbs and 1 egg. Form 4 to 5 equal patties of about 1 inch thick;
Thread the shrimp onto flat shaped skewers and rub each side with the A.P. rub;
Place the shrimp and burgers on the hot grate and grill for 4 minutes per side; Place a slice of Swiss cheese on top of each beef patties for the last 30 seconds; You can let the burgers cook a little longer if you prefer them well done;
Assemble the burgers with toasted buns,  a spoonful of Aïoli Mayo, rocket salad, three grilled shrimp and a grilled beef patty; Serve and enjoy.