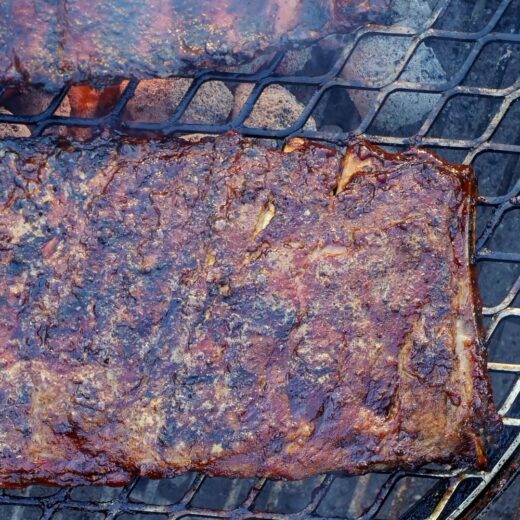 I've been hunting for a way to cook ribs over an open fire for a while, and I think this method hits all the right notes. There's something remarkably appealing about open fire cooking that a regular charcoal grill or smoker just can't replicate. No doubt, the idea of cooking ribs over an open fire might initially seem a bit daunting. But, when you have the right equipment, it's a whole lot simpler. Enter the KUDU grill, a versatile tool designed with adjustable cooking grates. This means you can regulate how close your ribs are to the fire, steering clear of any unwanted charring. This kind of control helps ensure your ribs are cooked evenly, turning out tender and delicious each time.
The KUDU Smoker Lid is another tool that simplifies open fire cooking. By covering your grate, it helps you maintain a more stable temperature, which is essential when you're dealing with something as delicate as ribs. The result is a cooking experience that sits comfortably between using a smoker and a charcoal grill, merging the best of both worlds.
This recipe for Open Fire Ribs calls for a few simple yet flavorful ingredients. The pork spare ribs are seasoned with a dry rub, featuring smoked paprika, brown sugar, and a handful of other spices. This combination gives a robust flavor to the meat, which is then slowly cooked over the open fire to absorb the smoky aromas from the burning logs.
The Ancho Peach Barbecue Sauce is the real kicker. Here's where we get creative, blending smoky ancho chilis and sweet, ripe peaches with butter-sautéed onions, garlic, and a medley of other ingredients. This sauce simmered to perfection adds a sweet and spicy tang to the ribs, elevating their flavor to a new level.
After several hours of cooking, a generous basting with the Ancho Peach Barbecue Sauce, and some strategic heat adjustments, you'll end up with ribs that are slightly charred on the outside, tender and juicy on the inside, and filled with the distinctive flavors of open fire cooking. It's a cooking adventure worth embarking on. Now, go ahead and fire up that KUDU grill!
Ingredients
Ribs
2 racks Pork spare ribs, membrane removed
Coarse salt
Ground black pepper
Dry Rub
2 tbsp - Coarse salt
1 tbsp - Smoked paprika
1 tbsp - Brown sugar
2 tsp - Ground black pepper
1 tsp - Garlic powder
1 tsp - Onion powder
1 tsp - Ground mustard seeds
Ancho Peach Barbecue Sauce
4 Ancho chilis, stems and seeds removed
3 Ripe peaches, diced
3 tbsp - Salted butter
1 Yellow onion, diced
1 clove Garlic, minced
1 cup - Brown sugar
2 ½ tbsp - Tomato paste
2 tbsp - Smoked Paprika
1 tbsp - Steak sauce
1 tbsp - Coarse salt
1 tsp - Dried allspice
1 tsp - Ground black pepper
2 tbsp - Worcestershire sauce
1 ⅓ cup - Apple cider vinegar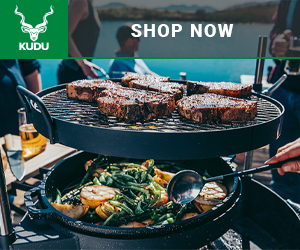 Preparation
Preheat your KUDU grill. Empty a chimney of lit coals and pile 1-2 logs on top of the embers. Set the KUDU cooking grate to its highest position.

Remove the ribs membrane: using a butter knife and paper towels, flip the ribs bone side up and insert the knife between the thin rubbery membrane and one of the bones. Grab and pull the membrane with paper towels to remove completely. 

Combine all dry rub ingredients in a bowl and mix to combine. Season ribs in two steps; use salt and pepper only on the bone (membrane) side, then flip the ribs and season the other side with the dry spice blend.

Place ribs on the KUDU cooking grate bone side down and cover with the KUDU Smoker lid. Be sure to distribute the embers so that the ribs receive even heat. Cook for 3 hours.

Install the KUDU pan and set its height for medium-high heat. Toast the ancho chilis for 1-2 minutes until fragrant then enough water to the pan to submerge. Bring to a boil for 10 minutes then remove from heat. Transfer ancho chilis to a blender with 2 cups of the boiling liquid. Add the diced peaches and blend until smooth. Set aside.

Empty the KUDU pan and bring back over heat. Melt 3 tbsp butter then add the onions and cook until golden brown. Add garlic and cook for 2 more minutes. Add the remaining ancho chili sauce ingredients including the ancho peach sauce. Let simmer for 15 to 20 minutes.

Flip ribs and baste with the ancho peach barbecue sauce. Repeat every 20 minutes. For the last 10 minutes of cooking, lower the KUDU grate to bring ribs closer to the heat and grill both sides until slightly charred. The ribs are done when the meat has shrunk about ½ an inch from the bones. Remove ribs from heat and let rest for 20 minutes before serving.