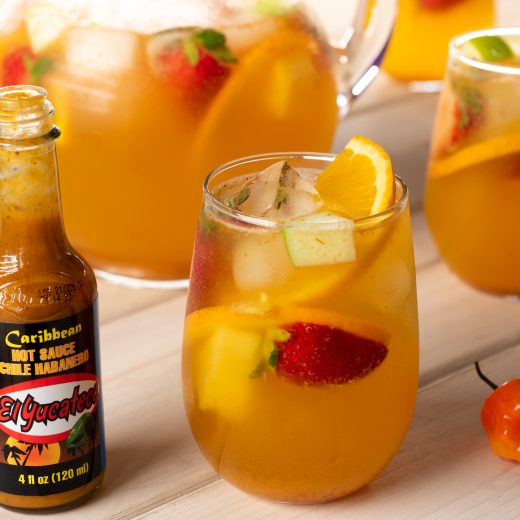 As my girlfriend went through a sangria phase, I decided to create my own sangria recipe that would suit my palate, something that I could enjoy drinking while barbecuing. Traditional sangria was too sweet for my taste, and I couldn't bring myself to enjoy it. So, I experimented with different ingredients, until finally, I stumbled upon the perfect combination.
A crisp dry white wine, a splash of brandy for warmth, a hint of peach schnapps for sweetness, and the secret ingredient, El Yucateco Caribbean sauce, for a surprisingly well-balanced kick. For a delicious, colorful dance of flavors, I added sliced oranges, halved strawberries, diced pineapple, and green apples.
I let it sit in the fridge, eagerly waiting for the magic to happen, and when I finally took a sip, I knew I had hit the jackpot. The flavors melded into a flavor symphony, and the addition of a bubbly lemon-lime soda at the end made it even more refreshing and inviting.
I served it at my next barbecue, feeling confident in my creation, and it was a hit with my friends. They couldn't get enough of it and kept returning for more, requesting the recipe and praising its distinct flavor. Try this sangria if you're looking for something different from your typical sangria.
Ingredients
1 bottle (750 ml) Dry white wine
2 oz - Brandy
2 oz - Peach schnapps
1 oz - El Yucateco Caribbean Sauce
2 Oranges, sliced
1 cup - Strawberries, halved
1 cup - Pineapple, diced
1 Green apple, diced
1 cup - lemon-lime soda, such as Sprite or 7 Up
Preparation
In a large pitcher, combine all ingredients except the lemon-lime soda. Refrigerate for at least 4 hours, up to overnight;

Add ice and pour in the lemon-lime soda. Stir to combine and serve.