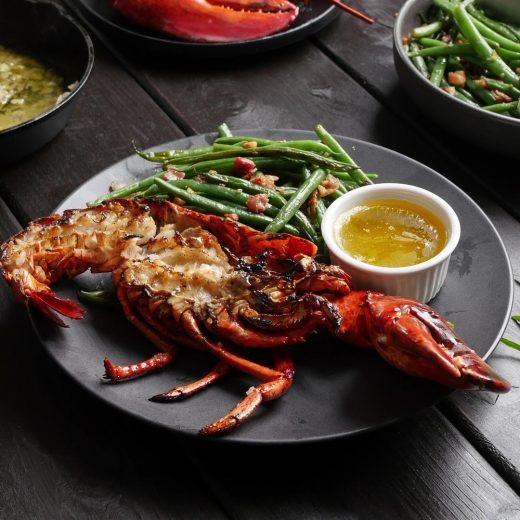 There I was, standing before the wood logs crackling and the warm scent of charcoal filling the air. I reminisce about the days I used to cook lobsters in conventional ways, unaware that my culinary journey was about to take a delightful turn. Enter grilled lobsters. These wood-fired wonders took me on an epicurean adventure that I never knew existed. The KUDU grill, with its open fire and versatility, turned out to be the perfect companion in my quest for the ultimate lobster experience.
The orange liqueur butter brings an exceptional richness to the grilled lobsters. Its citrusy notes add a touch of brightness and depth that complement the smokiness from the grill, while the garlic and shallots in the butter enhance the natural sweetness of the lobster, making every bite an unforgettable experience.
Now, let's talk about the lemon-roasted green beans. These vibrant gems bring a beautiful balance to the rich, succulent grilled lobsters. The tangy preserved lemons cut through the richness of the dish, while the smoky bacon adds another layer of flavor that harmonizes with the wood-fired lobsters. The delicate crunch of the green beans is the perfect foil to the tender, juicy lobster meat.
Each time I prepare this dish, I am reminded of the beautiful dance of flavors and textures that make grilled lobsters and lemon-roasted green beans such a winning combination. The KUDU grill has not only unlocked the full potential of grilled lobsters, but it has also inspired me to explore new culinary adventures, forever changing the way I approach food and flavor.
Ingredients
Lobsters
2 Live lobsters, about 1.5 lb each
Coarse salt and freshly ground black pepper to taste
Orange Liqueur Butter
1 cup - (2 sticks) Salted butter
¼ cup - Orange liqueur, such as Grand Marnier
2 cloves Garlic, finely chopped
1 Shallot, finely chopped
1 tsp - Dried tarragon
Lemon-Roasted Green Beans
6 slices Hardwood-smoked bacon, diced
1 ½ lb - Green beans, trimmed
2 tbsp - Preserved lemons, chopped
2 cloves Garlic, finely chopped
¼ cup - Pine nuts
Coarse salt and freshly ground black pepper to taste
Parmesan cheese for topping (optional)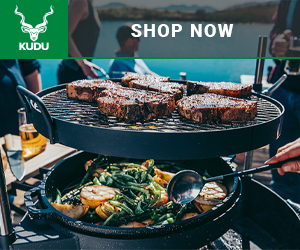 Preparation
Preheat your KUDU grill. Empty a chimney of lit coals and pile 1-2 logs on top of the embers. Set the KUDU pan about 10 inches away from heat.

Bring water to a boil and toss the green beans in the water. Cook for 2 minutes then transfer to a bowl of ice water. Set aside.

Cook bacon for 2 minutes then add the green beans and continue cooking for 7 to 8  minutes, stirring frequently. Add preserved lemons, garlic, pine nuts and season with salt and pepper to taste. Continue cooking until tender-crisp.

Split lobsters in half lengthwise starting from the head. Season with salt and black pepper.

Combine all orange liqueur butter in a cast iron skillet over heat and stir until butter is fully melted. Set aside.

Set the KUDU cooking grate about 5 inches away from heat. Place halved lobsters on the hot grate and cook until meat is tender, about 3 to 5 minutes per side. Brush lobsters with the orange liqueur butter while cooking.