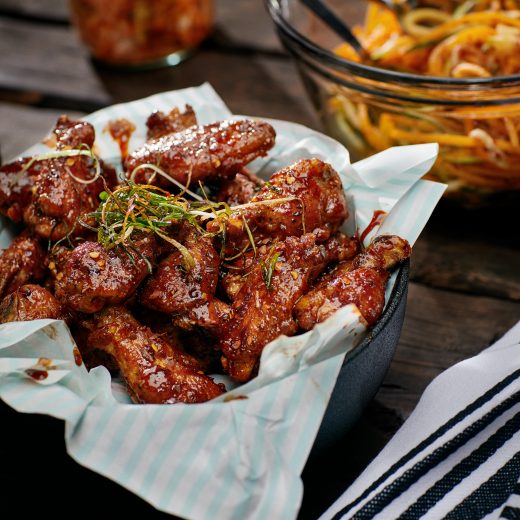 Korean BBQ has gained a lot of popularity worldwide. Not only does it create a unique dining experience, the combination of traditional Asian ingredients make you feel like you are on a culinary adventure. First smoked with oak and pecan, then double fried for extra crispness, and finally tossed in an authentic Korean BBQ sauce made from scratch with gochujang, dark soy sauce and other savory ingredients, this Korean BBQ chicken wings recipe delivers a heaping helping of authentic Korean BBQ flavors that won't disappoint. We can say with confidence that if you never tried Korean BBQ before, you are truly missing out!
Ingredients
Chicken Wings
4 lb - Chicken wings
2 quart - Vegetable oil for frying
Green onions for topping, thinly sliced lengthwise and fried (optional)
Wood chunks for smoking, preferably oak, hickory or pecan
Korean BBQ Sauce
4 ¼ oz - Gochujang
½ cup - Honey
¼ cup - Dark soy sauce
2 tbsp - Rice vinegar
1 tbsp - Chili flakes
1 tbsp - Garlic powder
2 tsp - Fish sauce
1 tsp - Korean pepper flakes (optional)
½ tsp - Black pepper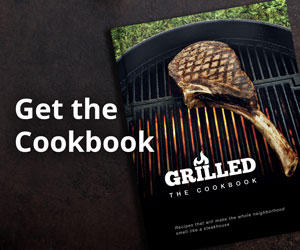 Preparation
Preheat your grill for indirect cooking at 325°F;
Generously season chicken wings on both sides Roasted Honey Barbecue Rub;
Place chicken wings in your grill over indirect heat and toss one or two wood chunk onto hot coals for smoking. Cook until the internal temperature of the meat reaches 160°F on an instant read thermometer, about 30 to 45 min;
Combine all Korean BBQ Sauce ingredients into a bowl and set aside;
Heat vegetable oil in a deep-fryer or large cast iron pot to 300°F;
Once chicken wings have reached their targeted temperature, transfer to hot oil and fry for 1 min. Remove wings from fryer and set on a paper towel-lined plate or rack. Increase oil temperature to 380°F then place wings back to the oil for another 30 seconds;
Transfer fried chicken wings to a large stainless steel bowl. Pour Korean BBQ Sauce over the wings and toss to coat evenly. Serve with fried green onions (optional).