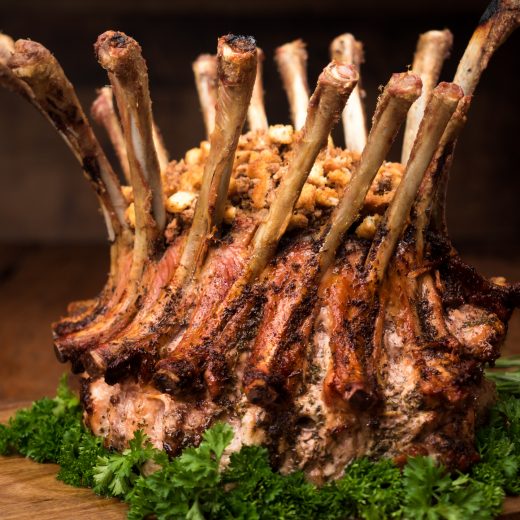 Since colonial times, hogs have been the preferred meat to cook over a fire pit. The animal was thriving in the region's wild before domesticated and thus, pork has grown as the principal meat of the South. From then and for centuries, people have been grilling and smoking pork in all sorts of creative ways. Suited for a traditional holiday dish, the crown roast of pork is one of the finest pieces of meat that could grace your family table. Achieved by tying two frenched bone-in pork roast together, the crown roast of pork not only makes a beautiful presentation that will surely dazzle your guests, but its large interior space will also hold favorite stuffing in a very elegant way. Large enough to feed a crowd, this crown roast of pork might constitute the perfect occasion to start a new family tradition!
Ingredients
Crown Roast
2 8-Bone pork loin roast, frenched
Wood chunks for smoking, preferably apple and/or cherry
Dijon & Herbs Wet Rub
1 cup - Olive oil
¾ cup - Fresh parsley
¼ cup - Fresh thyme
¼ cup - Fresh sage, chopped
2 tbsp - Whole grain dijon mustard
2 Garlic clove, minced
2 tsp - Lemon zest
2 tbsp - Salt
1 tbsp - Black pepper
Stuffing
2 tbsp - Butter
6 Strips of bacon, miced
4 Shallots, diced
4 Celery stalks, diced
1 ½ lb - Ground pork
2 tbsp - Chili powder
1 Garlic clove, minced
1 tsp - Fresh thyme
½ tsp - Black pepper
2 cup - Chicken broth
8 cup - Dry bread cubes
Brown Sugar Rosemary Glaze
½ cup - Butter
½ cup - Brown sugar
¼ cup - Worcestershire sauce
1 Sprig of rosemary
1 tbsp - Lemon juice
½ tsp - Salt
½ tsp - Black pepper
Additional Equipment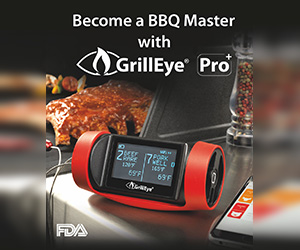 Preparation
Preheat your grill to 325°F;
Place both pork loin fat side down on your butcher block and make 1 inch deep cuts between each ribs – making sure to not cut all the way through;
In a food processor, blend all of the Dijon & Herbs Wet Rub ingredients together until it becomes a liquid paste then brush of every surface of the crown roast;
In a saucepan, whisk in all Brown Sugar & Rosemary Glaze ingredients and bring to a boil for 2 minutes;
Place the crown roast in your grill for indirect and toss a few wood chunks onto hot coals for smoking; If you are using a wireless meat thermometer, insert one of its probe in the deepest section of the roast without touching the bones; Cook until the internal temperature of the roast reaches 145°F; Brush the roast every 30 minutes with the glaze;
While the crown roast is cooking, make the stuffing: sauté the bacon, shallots and celery seed with 2 tbsp of butter in a large skillet for 5 minutes then add the ground pork, chili powder, thyme, pepper and garlic and cook for another 15 minutes; add the chicken broth and bring to a boil for 5 minutes; Transfer into a large bowl and mix with the dry bread cubes;
Once the crown roast has reached his targeted temperature, remove from your grill and let rest at room temperature for 20 minutes; Pour the stuffing inside the roast and serve.