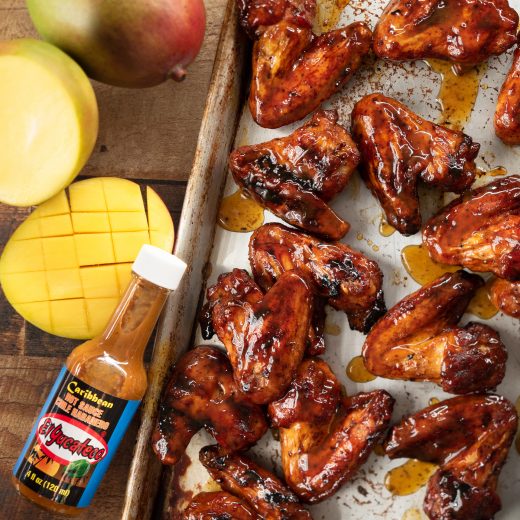 Ingredients
Chicken Wings
2 lb - Whole chicken wings
2 tbsp - El Yucateco Caribbean Hot Sauce
2 tbsp - Extra virgin olive oil
1 tsp - Kosher salt or coarse sea salt
½ tsp - Ground black pepper
Mango Habanero Barbecue Sauce
1 cup - Mango, cubed (fresh or frozen)
1 cup - Mango juice
¾ cup - Light brown sugar
¼ cup - Apple cider vinegar
3 tbsp - El Yucateco Caribbean Hot Sauce
1 tbsp - Fresh ginger, grated
1 tbsp - Worcestershire sauce
1 tbsp - Ketchup
1 tbsp - Yellow mustard
1 tbsp - Lime juice
1 tbsp - Cornstarch
1 tsp - Onion powder
½ tsp - Paprika
Preparation
Preheat your smoker or charcoal grill for indirect heat at 300°F. 

In a large bowl, combine the Caribbean hot sauce, olive oil, salt and pepper. Add the chicken wings and toss to coat evenly.

Place the wings on the grill over indirect heat and cook until the internal temperature of the meat reaches between 170°F and 175°F, about 1 hour.

Meanwhile, in a saucepan off the heat, combine all the ingredients for the Mango Habanero Sauce. Bring to a boil then reduce to medium heat and let simmer for 2 minutes.

Using a hand blender, blend the sauce until smooth. Season with salt and pepper to taste.

Transfer the wings to a large bowl, add half the sauce and toss to coat. Serve with extra Mango Habanero Barbecue Sauce on the side.