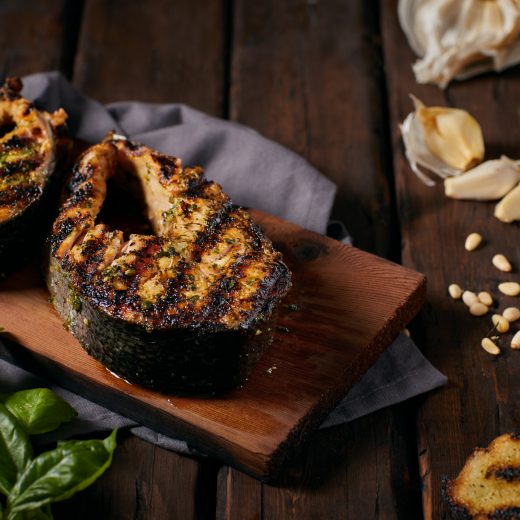 Every great steakhouse has grilled salmon on their menu, but can it compete with their best cuts of steak? While you may have tried salmon many ways, this grilled salmon recipe is guaranteed to any satisfy the most committed steak lover. Indeed, salmon darnes allow you to get the exact thickness you would want your favorite cut of steak to have, yielding a healthy, yet very flavorful steak dinner. Also quick and easy to make, this grilled salmon recipe requires only a few quality ingredients and a sizzling hot grill. Cooked over charcoal fire, this grilled salmon recipe finds the perfect balance of char-grilled flavors and impressive fragrances from selected fresh herbs. This grilled salmon recipe is likely to become the most succulent salmon you ever had.
Ingredients
Salmon
2 Salmon darnes, 2 inches thick
1 tbsp - Coarse sea salt
½ tbsp - Freshly ground black pepper
Pesto
2 ½ cup - Fresh basil leaves
¼ cup - Olive oil
2 tbsp - Pine nuts
2 Garlic cloves, minced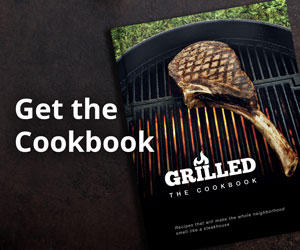 Preparation
Preheat your grill for indirect;

Mix all the ingredients for the pesto in a blender;

Season the salmon darnes with coarse sea salt and freshly ground black pepper, then c

over both sides with the pesto mixture;

Sear over hot coals for about 3-4 minutes per sides, then move to indirect for another 5 – 6 minutes.
Serve with grilled asparagus and tomatoes.