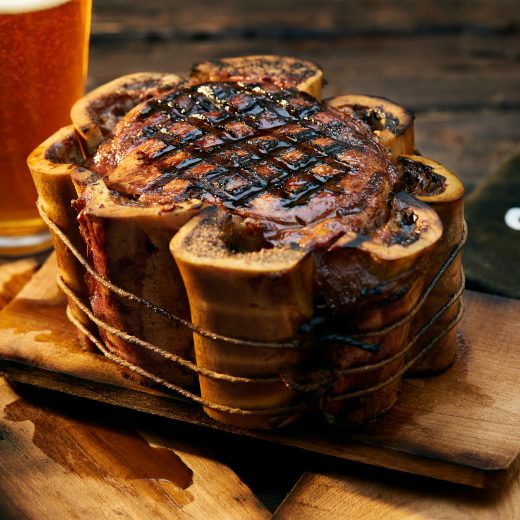 While many people only swear by bone-in steaks and bone-in prime rib roasts, some have argued that beef bones are too thick to let the delicious beefy and buttery tasting marrow escape and soak into the meat while cooking. Fortunately, we have a solution to end this dilemma once and for all. Here comes the Revolver Prime Rib; a boneless prime rib roast enclosed in halved marrow bones. This recipe got suggested to us by Montreal's well-known butcher shop Entrepôt de Viandes (french for "meat warehouse") although it was originally named "Double Barrel Shotgun Prime Rib" by our friend J-Rock Gelinas from Sugar Daddy Bacon BBQ. What makes this recipe unique is that while the prime rib cooks over indirect heat, the marrow partially melts and infuses the meat with a rich and savory buttery flavor. Not only do you end up with the most succulent prime rib roast, you also get perfectly roasted marrow bones to serve with every portion. Try it yourself and see the difference! We believe that this innovative way of barbecuing a prime rib roast could change the game forever.
Ingredients
6 lb - Prime rib roast, boneless
8 to 9 Halved marrow bones, 4 to 5 inches tall
¼ cup - Olive oil
2 tbsp - Kosher salt
2 tbsp - Black pepper
1 tsp - Garlic powder
1 tsp - Onion powder
1 tsp - Red pepper flakes
Wood chunks for smoking, preferably apple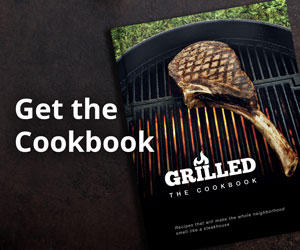 Preparation
Preheat your grill for indirect heat at 300°F.

Brush prime rib roast on all sides with olive oil. Combine kosher salt, black pepper, granulated garlic, granulated onion and hot pepper flakes into a bowl then generously sprinkle all over the roast. Rotate the roast of a quarter turn so that one of the sides is facing up. Circle all halved beef marrow bones around the roast, with marrow facing the roast, and secure with butcher twine at 3 places to hold tight.

Place the roast in your grill over indirect heat and toss one or two wood chunks onto hot coals for smoking. Cook until the internal temperature of the roast reaches 110°F on an instant read thermometer, about 30 to 45 min.

Once the roast has reached its targeted temperature, open the lid and let the grate heat up for a few minutes. Move the roast to direct heat and sear for a 2 to 3 minutes per side, or until the internal temperature reaches 125°F on an instant read thermometer.

Remove the roast from the grill and let rest at room temperature for 20 to 30 minutes.

Cut the butcher twine to remove the bones and slice the roast into desired servings. Serve with marrow bones on the side.