As the autumn sun peeked over the horizon, casting its warm glow over the crisp morning air, I set about the task of preparing my beloved smoked chili recipe. It starts with a blend of ancho, chipotle, and guajillo chiles, beef broth, and a variety of aromatic spices. I sear juicy beef cubes in bacon fat before adding the chile mixture and a medley of savory ingredients. After hours of slow cooking, I stir in cinnamon and dark chocolate for depth and complexity. This chili is always a hit and I crave it every year.
Ingredients
4 Ancho chiles, stems removed
4 Chipotle chiles, stems removed
2 Guaijillo chiles, stems removed
1 Large onion, cut into quarters
2 Cloves garlic
2 cup - Beef broth
2 cup - Water
6 strips Bacon, diced
2 lb - Beef chuck roast, cut into 2-inch cubes
28 oz - (1 large can) Diced tomatoes
30 oz - (2 cans) Beans, we use a mix of pinto and black beans
¼ cup - Worcestershire sauce
¼ cup - Brown sugar
3 tbsp - Masa harina mixed in ⅓ cup water
1 tbsp - Paprika
2 tsp - Kosher or coarse sea salt
1 tsp - Ground black pepper
1 tsp - Ground cumin
2 sticks Cinnamon
1 oz - 85% Cocoa dark chocolate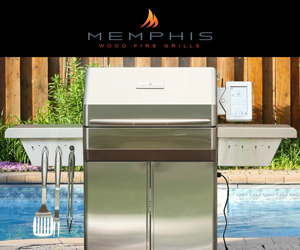 Preparation
In a large saucepan, toast the dried chiles for a few minutes until fragrant. Add the beef broth, water, white onion and garlic and bring to a boil for 15 minutes. Transfer everything, including the cooking liquid, to a blender and pulse until smooth. Set aside.

In a large cast iron pot, cook the bacon then set aside in a bowl, leaving the rendered bacon fat in the pot. Sear beef cubes in the bacon fat for a few minutes per side then remove pot from heat and add the chile and onion mixture, canned diced tomatoes, canned beans, worcestershire sauce, brown sugar, paprika, coarse salt, ground black pepper, cumin and masa harina slurry. Mix to combine.

Set your Memphis Grill to 225°F in indirect flame with the indirect insert. We recommend using pecan wood pellets.

Smoke chili until beef is tender, about 4 hours, stirring occasionally. Add cinnamon sticks and dark chocolate to the chili 30 minutes before taking off the heat.

Remove chili from heat and take out cinnamon sticks. Serve with your favorite toppings.