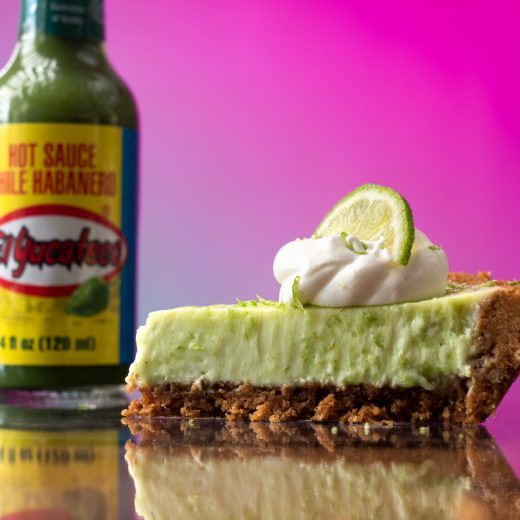 Ingredients
Crust
1 ¼ cup - Graham cracker crumbs
⅓ cup - Melted butter
1 tbsp - Sugar
1 Pinch of salt
Habanero Lime Filling
½ cup - Cream cheese, softened
2 Large eggs
2 Egg Whites
1 can - (10 oz) Sweetened condensed milk
Zest of 2 key limes
¾ cup - Key lime juice (can be substituted with regular limes)
⅓ cup - Heavy cream
2 tbsp - El Yucateco Green Habanero Hot Sauce
Preparation
Preheat the oven to 325 F. Place the rack in the middle position.

Whisk cracker crumbs, melted butter, sugar and salt in a bowl until the mixture looks like wet sand. 

Press the crust on the bottom and sides of a 10 inch pie plate. Bake for about 15 minutes or until the crust begins to brown. Leave to cool.

Beat the cream cheese with an electric mixer in a large bowl until it softens. Add eggs, egg whites, sweetened condensed milk and mix to combine. Add lime zest, lime juice and mix until mixture thickens. Incorporate heavy cream and Green Habanero hot sauce.

Pour the filling onto the crust. Bake for about 30 minutes until the filling is set. Leave to cool at room temperature before refrigerating for a minimum of 4 hours. 

Serve pie with whipped cream and top with a thin wedge of key lime.