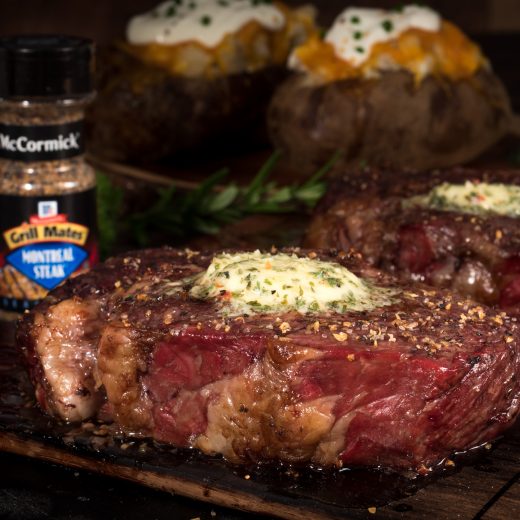 Hickory planked ribeye steaks look as elegant as they are tasteful. Fitting of the cowboy state, this ribeye steak recipe guarantees juicy and tender beef with a very interesting flavor profile. Although it is most common to soak wood grilling planks into water prior to cooking, this ribeye steak recipe is made even more unique by charring the planks, thus giving your steaks an expensive wood smoke aroma you would not be able to achieve any other way. Topped with cowboy butter and served directly on the charred wood planks, this ribeye steak recipe brings the pleasant smell of smouldering hickory throughout your whole house. Enjoy this ribeye steak recipe with your friends and family to ensure long-lasting memories.
Ingredients
Steaks
2 Ribeye steaks, 1½ inch thick
2 tbsp - Olive oil
2 Hickory grilling planks
Cowboy Butter
1 cup - Softened butter
1 Garlic clove, minced
1 tbsp - McCormick® Parsley Flakes
½ tbsp - Horseradish
2 tsp - Dijon mustard
1 tbsp - Lemon juice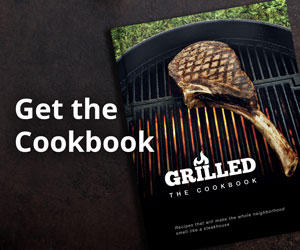 Preparation
Preheat your grill for a two zone cooking – having hot coals covering one half of the cooking area and nothing on the other;
Brush the steaks on both side with olive oil, then generously season with McCormick Grill Mates® Montreal Steak Seasoning; Let the steaks rest at room temperature for about 30 minutes;
Make the cowboy butter: Combine all Cowboy Butter ingredients into a bowl then place on a parchment paper and roll into a log; Refrigerate for at least 10 minutes before serving;
Char the hickory planks: Place each plank face side down directly over hot coals for about 3 minutes per side; You want the planks to get darker but not to catch fire;
Revert the planks face side up and move over indirect heat; Lay each steak on top of the planks and close the lid; Cook at 250°F for about 20 minutes or until the internal temperature of the steaks reaches 105°F using an instant read thermometer;
Reverse sear the steaks by placing them over direct heat for 1 minute per side, or until desired doneness;
Remove the steaks from the grill; Cut two ¼ inch thick slices of cowboy butter and place on top of each steak; Let the steaks rest for 10 minutes before serving; Enjoy.