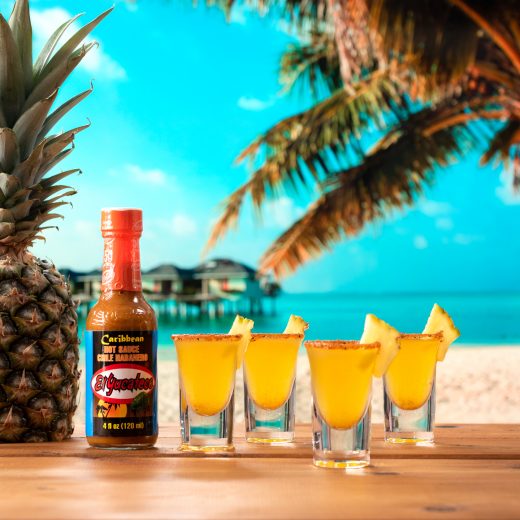 The sun sets over the ocean, casting a golden glow over the white sandy beach where a party is in full swing. Guests chat and laugh as they sip on colorful drinks and dance to the beat of the live band. As the party continues, someone suggests trying something new, and out comes a tray of Pineapple Habanero Shots. The shot glasses are rimmed with a fiery Caribbean hot sauce and a sprinkle of barbecue rub, giving it an enticing aroma and a fiery kick.
With just one sip of these Pineapple Habanero Shots, you'll be transported to a tropical paradise. The tequila and coconut rum mix perfectly with the sweet pineapple juice, the tartness of the lemon and the heat from the El Yucateco Caribbean Hot Sauce that cranks it up to 11. This shot has the perfect balance of sweetness and heat, making it ideal for daydreaming about summer evenings on the beach.
Ingredients
4 oz - Tequila
2 oz - Coconut rum
3 oz - Pineapple juice
½ oz - Lemon juice
½ tsp - El Yucateco Caribbean Hot Sauce
Barbecue rub
Pineapple wedges to garnish
Preparation
Arrange two small plates side by side. Pour Caribbean hot sauce in one plate and sprinkle barbecue rub in the other plate. Place a shot glass upside down on the plate with the Caribbean sauce to coat the rim, then transfer to the plate with barbecue rub to coat with rub. Repeat for each shot glass and set aside.

In a cocktail shaker, combine the tequila, coconut rum, pineapple juice, lemon juice, Caribbean hot sauce and a scoop of ice cubes and shake vigorously for 15 seconds.

Pour into rimmed shot glasses and garnish with pineapple wedges.