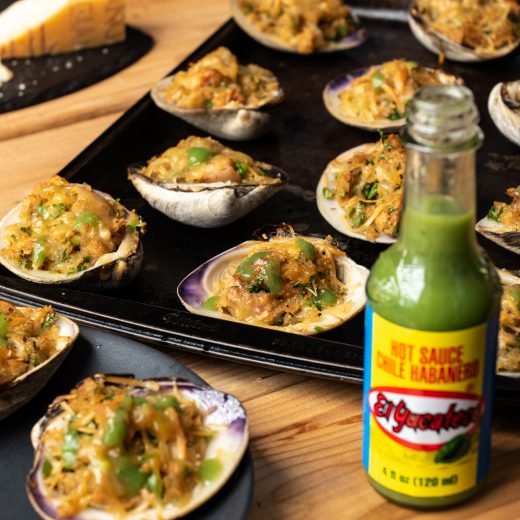 Roasted clams or Clams casino as it is popularly known, has a long history that can be traced back to the early 20th century. According to legend, the recipe was first developed in 1917 by a maître d'hôtel at a hotel in Narragansett, Rhode Island. The dish was created as a special request by a wealthy woman to impress her guests. The origin of Clams casino is said to be linked to Central Park Casino, where "soft clams a la Casino" were offered as early as 1900. The dish became popular across the United States, including New Orleans, where oysters were substituted for clams.
Our Smoked-Roasted Stuffed Clams recipe is inspired by the traditional Clams Casino dish, but it takes a different turn. While traditional Clams Casino recipe involves broiling the clams and then topping them with a combination of breadcrumbs, bacon and seasonings, we are going for smoke-roasted clams and a different set of ingredients. El Yucateco Green Habanero Sauce adds heat and flavor, sharp cheddar and parmesan cheese add creaminess and a nice cheesy pull, and parsley adds freshness. Also, unlike the traditional recipe, ours does not include bacon, but trust us when we say it didn't need it.
Ingredients
2 tbsp - Live clams, washed
3 tbsp - Butter
1 Large onion, chopped
1 Garlic clove, chopped
½ cup - White wine
1 tbsp - El Yucateco Green Habanero Sauce
½ cup - Breadcrumbs
½ cup - Sharp cheddar cheese, grated
½ cup - Parmesan cheese, finely grated
2 tbsp - Chopped parsley
Preparation
Preheat your smoker to 300 F.

In a large saucepan, soften the onion and garlic in butter over medium heat for 5 minutes.

Add white wine and bring to a boil. Add clams, cover and simmer until all clams are open, about 5 minutes.

Using a slotted spoon, remove the clams from the broth and let cool.

Bring the remaining cooking broth to a boil and reduce until about ¼ cup of liquid remains. Remove from heat, add Green Habanero hot sauce, breadcrumbs, cheeses and parsley. Season with salt and pepper to taste.

Remove clams from their shells, saving half of the shells for serving.

Coarsely chop the clams and add them to the cheese mixture.

Divide the stuffing evenly into the shells and place them on a baking sheet.

Smoke the stuffed clams for about 20 minutes until cheese is melted and clams are warm and smoky. Drizzle with Green Habanero hot sauce to taste and serve.