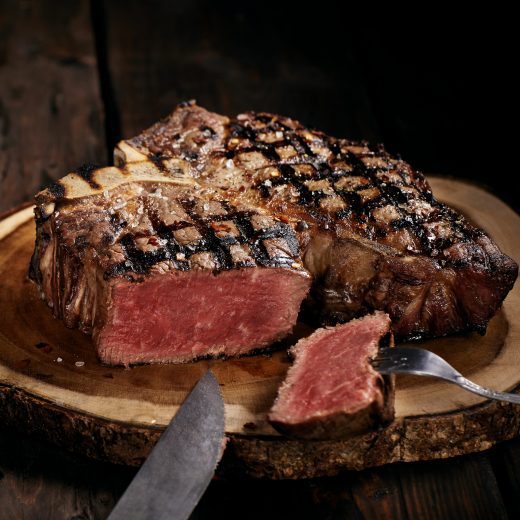 Ingredients
Dry Aged Porterhouse Steak, 1½" thick
Hickory wood chunks or chips
Steak Seasoning
2 tbsp - Black peppercorns
2 tbsp - Coarse salt
½ tbsp - Dried onions
½ tbsp - Red pepper flakes
½ tbsp - Dried garlic
Hickory Brown Sugar Beans
15 oz - White beans
15 oz - Pinto beans
¾ cup - Bacon, chopped
1 cup - Onions, chopped
1 cup - Ketchup
1 cup - Brown sugar
1 tbsp - Apple cider vinegar
1 tbsp - Worcestershire sauce
1 tbsp - Dijon mustard
1 tsp - Steak seasoning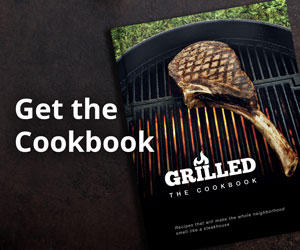 Preparation
Preheat your grill for indirect;
Drop all of the Steak Seasoning ingredients into an empty pepper mill and shake for them to blend. Generously grind about 1 tbsp of steak seasoning on each side of the porterhouse steak, then let rest for 45 min at room temperature;
In the preheated grill: Place a cast iron skillet over direct heat and mix all of the Hickory Brown Sugar Beans ingredients together except the beans. Simmer for 5 minutes then add the beans and place the skillet in indirect. Add hickory wood chunks onto hot coals and close the lid for 30 minutes;
Grill the porterhouse steak over direct heat for 4 to 6 minutes per side or until desired doneness. Close the lid if there are too many flare ups;
Let the steak rest for 10 minutes, then separate the tenderloin and strip from the bone.  A steak that thickness should easily serve two.