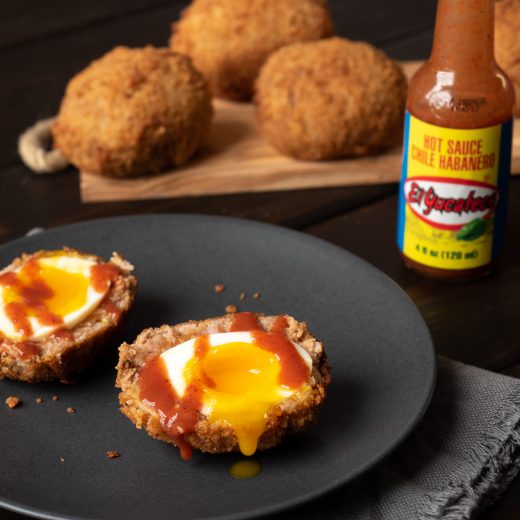 Introducing the Best Deep Fried Scotch Eggs, a deliciously savory and satisfying snack that's sure to become a new favorite. These little balls of joy are made with soft boiled eggs wrapped in spicy Italian sausage and then coated in a crispy, flavorful breading. They're perfect for a quick breakfast, an afternoon snack, or as a party appetizer. In less than 10 minutes of cooking time, you'll be munching on these golden brown Scotch Eggs and savoring every bite. So why wait? Get frying and enjoy!
Ingredients
Eggs
6 Large eggs
¾ lb - Mild Italian sausage, casings removed
Preparation
In a saucepan, cover eggs with water. Bring to a boil and cook eggs for 5 minutes. Drain and transfer eggs to a bowl filled with ice water. Let cool for 5 minutes before peeling. 

Heat oil for deep-frying at 350°F. 

Divide sausage meat into 6 small patties. Working on plastic wrap, flatten each patty to ¼ inch thick. Place a peeled egg on each patty and carefully wrap with the sausage. 

Set up 3 small bowls next to each other. Place flour in the first one. Whisk the egg and Red Habanero sauce in the second. Combine breadcrumbs and barbecue seasoning in the third. 

Dip Scotch eggs into flour one at a time, shaking to remove excess flour, then dip into egg mixture, then roll into breadcrumbs.

Deep fry the eggs for 3 to 4 minutes, rotating frequently, until golden brown. Remove from oil and place on a baking sheet lined with paper towels. 

Cut eggs in half before serving and drizzle with more Red Habanero sauce to taste.