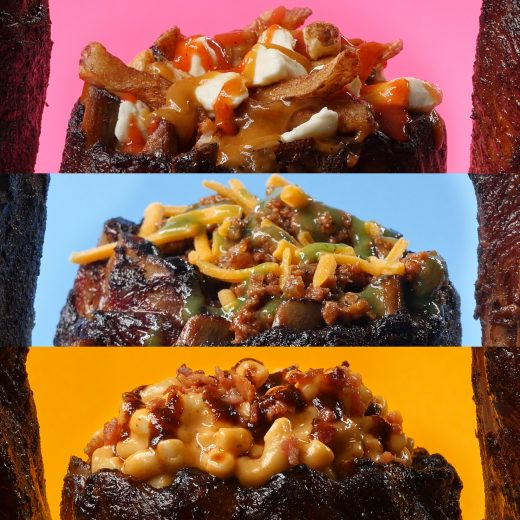 Get ready for the ultimate BBQ experience with these Smoked Rib Bowls. Start by prepping your racks of ribs with a spicy habanero sauce binder and a slightly smoky dry rub, then tie them into bowls using butcher twine. Next, fire up the smoker and let those ribs cook to perfection. Once they're ready, fill your rib bowls with your choice of mouthwatering stuffings like poutine, chili, or mac and cheese. And don't forget to top it all off with your favorite fixings a drizzle of your favorite El Yucateco hot sauce. These Smoked Rib Bowls are the ultimate combination of smoky, spicy, and savory flavors that will satisfy any BBQ lover's cravings.
Preparation
Rib Bowls
Preheat your smoker to 225°F.

Brush ribs on both sides with Red Habanero Sauce. Combine all dry ingredients in a bowl or spice shaker and generously season ribs on both sides with the dry rub.

Using a meat trussing needle and butcher twine, thread the needle through the meat before the last bone, then tie with the bone at the other end of the rack to form a bowl. Repeat with each rack of ribs.

Place a rib bowl in your smoker, rib tips facing up, and toss a few wood chunks onto hot coals for smoking. Cook until you see the bones sticking out of the rack of about ½ to ¾ inch. If going by temperature, aim for 195°F.

Let ribs rest at room temperature for 15 minutes before serving. Fill with desired stuffing and serve with your favorite El Yucateco sauce.
Poutine Stuffing
In a small bowl, combine tomato paste, Red Habanero Sauce, onion powder, garlic powder, cumin, smoked paprika and black pepper. Set aside.

In a medium saucepan, melt the butter over medium-high heat. Add the flour and cook, stirring constantly with a whisk, until mixture turns to a golden color, about 2 to 3 minutes. Remove from heat and immediately add the tomato paste and spice mixture, whisking vigorously. Add beef broth and cook over medium-high heat, whisking frequently until the sauce is boiling and thickens slightly. 

In a small bowl or measuring cup, whisk together powdered chicken broth with cornstarch, cold water and balsamic vinegar, if using. Add to the simmering sauce and whisk until the sauce thickens considerably. About 1 minute. 

Place french fries in a rib bowl and top with curd cheese. Pour hot poutine sauce over the fries and cheese and serve.
Chili Stuffing
In a large cast iron skillet or pot over medium-high heat, cook the bacon and onions for 3-4 minutes, then add the ground beef and continue cooking until the beef is dark brown and crispy on the outside. Stir in remaining chili ingredients and season with salt and pepper to taste. 

Transfer to smoker and cook for 30 minutes.

Pour chili in a rib bowl and serve.
Mac & Cheese Stuffing
Melt butter in a large saucepan over medium-high heat then add flour and whisk for 30 seconds. Add milk, American cheese, sharp cheddar and Chipotle Sauce and stir until cheese is melted.

Remove from heat, add cooked macaroni and mix to combine. Season with salt and pepper to taste. 

Pour mac & cheese in a rib bowl and serve.