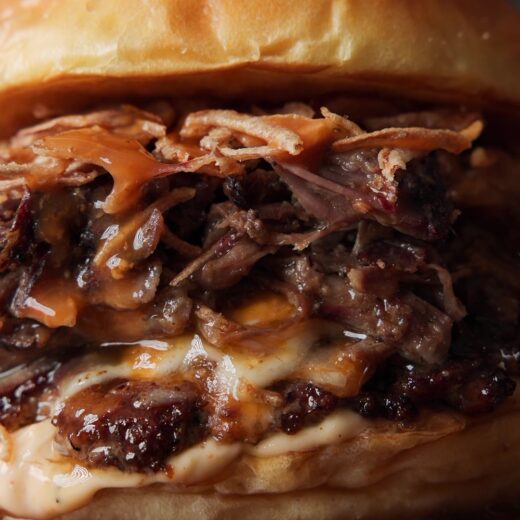 Step into a realm where culinary traditions merge and innovate. Our Habanero Fried Onion Cheesy Birria Burgers, in collaboration with El Yucateco, is a testament to this culinary alchemy. With birria's rich history rooted in Mexico, it has long been a dish celebrated for its depth of flavors and aromatic allure. Now, we've reimagined this classic, introducing it to the world of barbecue and burgers.
The distinctive character of El Yucateco's Coffee Habanero Hot Sauce provides a bold and spicy foundation, complemented by the crunch of crispy fried onions. This burger is not just about textures but a symphony of flavors. The luscious Birria broth, generously accompanying the beef, promises a juicy, indulgent bite. From the smoked beef ribs to the melty blend of cheddar and mozzarella, every component has been thoughtfully curated.
It's not merely a meal; it's a sensory journey. As you take in the layers, flavors, and history of this Smoked Birria burger, let it be a culinary voyage from the vibrant streets of Mexico to innovative BBQ kitchens, where tradition meets creativity. Indulge, savor, and be transported.
Ingredients
Birria Broth
3 tbsp - Vegetable oil
2 White onions, cut into chunks
6 Roma tomatoes, cut into chunks
2 tbsp - Garlic paste
1 tbsp - Ginger paste
1 stick Cinnamon
1 tbsp - Coarse salt
1 tbsp - Black peppercorns
2 tsp - Dried oregano
1 tsp - Dried thyme
1 tbsp - Ground cumin
1 cup - Beef broth
3 cup - Water
Beef Short Ribs
1 Rack beef short ribs, 4-5 bones
Coarse salt
Freshly ground black pepper
Burgers
1 ½ lb - Ground beef, preferably 80/20
1 cup - Shredded cheddar and mozzarella cheese
Mayonnaise, burger sauce, or your favorite burger condiments
1 cup - Crispy fried onions
Brioche burger buns
Tools & Supplies
Large aluminum foil pan
Cooling rack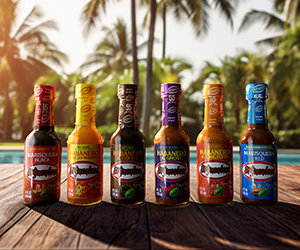 Preparation
Preheat your smoker to 250°F. Slice the beef short ribs between the bones to get individual ribs and season with coarse salt and pepper.
In a skillet, heat the vegetable oil over medium heat. Sauté white onions until translucent then add roma tomatoes and continue to cook for 4 minutes. Incorporate the El Yucateco Habanero & Coffee Hot Sauce, garlic, ginger, cinnamon stick, seasonings, and spices. Simmer for 15 minutes.
Discard the cinnamon stick and blend the skillet mixture until smooth.
In a large aluminum pan in the smoker, combine the blended mixture with beef broth and water. Place a cooling rack over the pan, lay the ribs on it above the liquid, and smoke for 3 hours.
Submerge the beef ribs in the Birria broth, increase smoker temperature to 300°F, and cook for another 3 hours or until very tender.
Remove ribs and strain the broth. Set aside.
Cook burgers in a preheated skillet using the smash burger technique. Season with salt and pepper to taste. Drizzle some of the fat from the broth over the burgers for added flavor and cook to your liking. Near completion, top with cheddar and mozzarella to melt.
Assemble the Birria burgers on toasted brioche buns: condiments, cheesy beef patty, shredded beef ribs, a generous drizzle of Birria broth, crispy fried onions, and El Yucateco Hot Sauce. Serve with strained broth on the side. Dunk the burger for a juicy Birria experience.