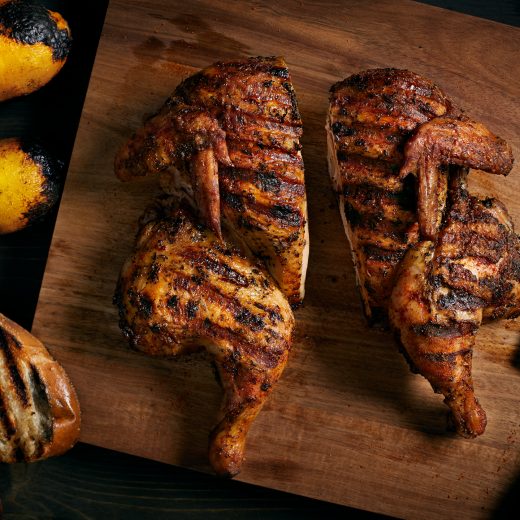 Ingredients
1 Whole chicken
2 tbsp - Freshly chopped thyme
2 tbsp - Grated lemon zest
4 Garlic cloves, minced
1 tbsp - Coarse sea salt
1 tbsp - Freshly ground black pepper
2 tbsp - Olive Oil
2 Lemons
You will also need:
2 Bricks wrapped in aluminum foil or a grill press
Preparation
Using kitchen shears or a sharp knife, remove the chicken's backbone and make a cut through the breastbone from the inside so the chicken can lay flat like an open book;

Mix the thyme, lemons zest, garlic cloves, coarse sea salt, black pepper and olive oil together and rub the chicken with the mixture evenly on both side. Cover and let marinate in the fridge for 1 hour;

Preheat your grill for direct grilling at medium temperature. If you are using a charcoal grill, distribute a thin bed of hot coals evenly beneath the cooking area;

Lay the chicken skin side down on the hot grate and place two bricks wrapped in aluminum foil, or a grill press on top. Grill for about 10 minutes then flip the chicken, put the bricks back and grill for another 20 minutes;

Place one or two lemons directly into hot coals to char them for about 1 to 2 minutes per side;

Once the internal temperature of the chicken reads 165°F on an instant read thermometer, remove the chicken from the grate at pour some of the charred lemon juice on top.
Suggestion: Serve with garlic bread and fresh bruschetta