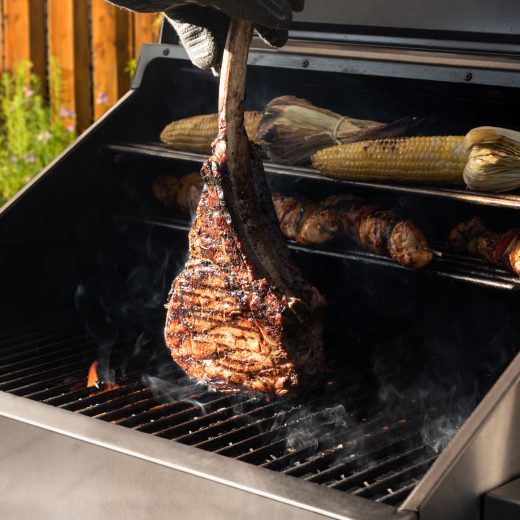 A Tomahawk steak on the grill is an experience like no other. The drama of serving a giant steak with a long bone handle is sure to impress your guests. But we're not content with just any old tomahawk steak – we want to take it to the next level with a two-step process. First, we dry brine the steak, which involves seasoning it generously with coarse salt and leaving it uncovered in the refrigerator for at least 2 hours (up to 24 hours). This helps draw out moisture from the surface of the steak, allowing the salt to penetrate the meat and enhancing its tenderness and juiciness. Next, we finish it off with a generous basting of clarified butter. This gives the steak an extra rich, buttery flavor that pairs perfectly with the beefy goodness of the tomahawk. And the best part? Clarified butter can withstand higher temperatures without burning, so you can really get that perfect sear on your tomahawk on the grill. Whether you're hosting a dinner party or just want to treat yourself to something special, tomahawk on the grill is the way to go.
Ingredients
2 Tomahawk steaks, 2-inch thick
½ cup - Clarified Butter, homemade or store-bought
⅓ cup - Kosher or coarse sea salt
⅓ cup - Freshly cracked black pepper
1 tbsp - Granulated garlic
2 tsp - Hot pepper flakes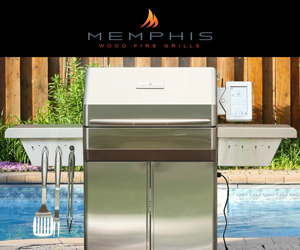 Preparation
Place steaks on a rimmed baking sheet with a cooling rack and generously season steaks on both sides with coarse salt. Store in the refrigerator for 2 hours, up to overnight.

Brush steaks on both sides with clarified butter. Combine black pepper, granulated garlic and hot pepper flakes in a bowl then apply the spice blend on both sides of the steaks.

Set your Memphis Grill to 250°F in indirect flame with the indirect insert. We recommend using oak wood pellets. 

Place steaks in your grill and insert a meat probe in one of them. Close the lid set probe alarm to 105°F.

Remove steaks from the grill and brush with the remaining clarified butter. Cover with aluminum foil and let rest at room temperature for 15 minutes.

Remove your Memphis Grill's indirect insert and replace it with the direct flame insert. With the lid open, select direct flame mode and set flame level to Xtreme.

When the grill is hot, place steaks back on the hot grate and sear to desired doneness. Aim for an internal temperature of 125°F for rare, 130°F for medium-rare, 140°F for medium, 150°F for medium well and 160°F for well done. Serve immediately.