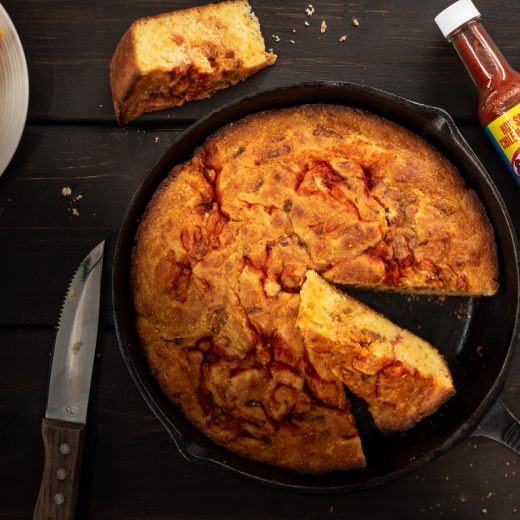 Ingredients
1 cup - All-purpose flour
1 cup - Fine yellow cornmeal
¼ cup - Sugar
2 tsp - Baking powder
¼ tsp - Baking soda
½ tsp - Salt
2 Eggs
½ cup - Butter, melted
1 cup - Buttermilk
1 ½ cup - Sharp Cheddar, grated
Preparation
Preheat your charcoal grill for indirect heat to 350°F. 

Butter a 10 inch cast iron skillet.

In a bowl, combine the flour, cornmeal, sugar, baking powder, baking soda and salt.

In a separate bowl, whisk the eggs with melted butter and buttermilk. Slowly add the dry ingredients, stirring gently with a rubber spatula. Add the grated cheddar.

Transfer batter to a buttered skillet. Pour the Red Habanero hot sauce in different places over the batter. Using a wooden skewer, gently stir the sauce into the batter to create irregular patterns of hot sauce throughout the cornbread.

Transfer cornbread to the grill over indirect heat and close the lid. Cook for 35 to 40 minutes, or until a toothpick inserted into the cornbread comes out clean.

Let rest 15 minutes before serving.