Nothing screams summer louder than the triumphant trio of sun, sand, and sizzle. As the waves gently kiss the shore and seagulls wage civil wars over wayward chips, there's an unrivalled joy in firing up a portable charcoal grill, cold beverage in hand. Whether you're a seasoned beachside barbecue baron or a rookie armed with unflappable optimism, grilling at the beach has a unique rhythm to it. Each flame-kissed bite infused with the salty ocean air is an experience worth every grain of sand in your shoes and the sporadic squawk of a disgruntled seagull.
Eager to create your own smoky symphony by the sea? Here are three of the most promising contenders for your seaside menu, carefully selected for their balance of practicality, portability, and palate-pleasing prowess.
1. Beachside Brats
First in the lineup is a beach-friendly classic: Bratwurst sandwiches. These heavyweight champion of grilled goodness, finds a cozy home in a bun and adorned with a generous spread of hot mustard.
Start with the bratwurst at home: simmer them in a beer and onion mix. This dual-purpose technique infuses them with an appealing flavor and cooks them thoroughly. Once you're at the beach, all they need is a little grill time to achieve a delightful charred exterior. Nestle the bratwurst into soft buns, generously layer hot mustard, and finish with pickles, onions, or sauerkraut. Savor these alongside a cold pilsner for a beachside banquet.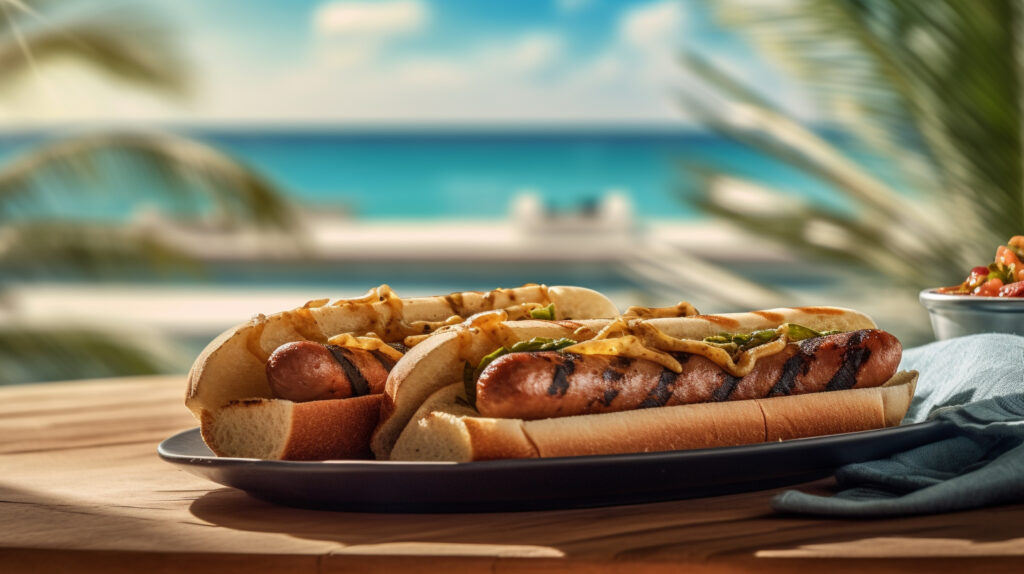 Ingredients
4 bratwurst sausages
2 tbsp Salted butter
1 bottle of dark beer (about 350 ml)
1 medium onion, chopped
4 soft buns
Hot mustard to taste
Pickles, onions, or sauerkraut for garnish
Preparation
In a preheated skillet, sauté the onions in the butter for 2 minutes. Pour in the dark beer then add the sausages. Cook over low heat for about 20 minutes or until cooked through;
Place the cooked bratwursts in the refrigerator until cooled
Put cooked sausages, buns and condiments in your cooler.
Once at the beach, grill the bratwursts until they have a nice charred exterior.
Serve them in rolls with a strong mustard spread and garnish as you wish.
2. Mediterranean Chicken Quarters
Next on the list is marinated chicken quarters. Marinate the chicken at home in a blend of olive oil, garlic, lemon, and Mediterranean herbs. The preparation is straightforward and leaves you free to enjoy your time at the beach.
Grill these marinated quarters at the beach to achieve a beautiful blend of smoky, citrusy, and herby flavors. Enjoy this with a light, summery white wine or a cold craft beer to create a beach feast worthy of royalty.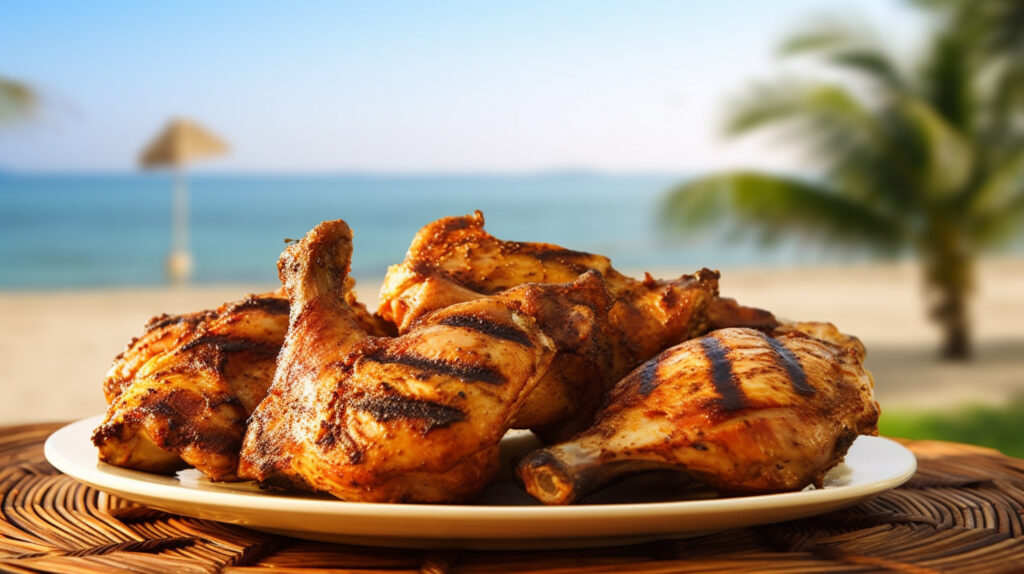 Ingredients
4 chicken quarters
2 cloves garlic, finely chopped
Juice of 1 lemon
1⁄3 cup of olive oil
2 tsp dried oregano
1 tsp paprika
1 tsp dried thyme
1 tsp salt
½ tsp black pepper
Preparation
Combine all marinade ingredients in a reclosable plastic bag and add the chicken quarters;
Pack the marinated chicken quarters in your chilled cooler;
Grill the chicken at the beach over medium heat until internal temperature registers between 165°F and 170°F on an instant read thermometer;
3. Cajun Grilled Prawns
Next on the list is marinated chicken quarters. Marinate the chicken at home in a blend of olive oil, garlic, lemon, and Mediterranean herbs. The preparation is straightforward and leaves you free to enjoy your time at the beach.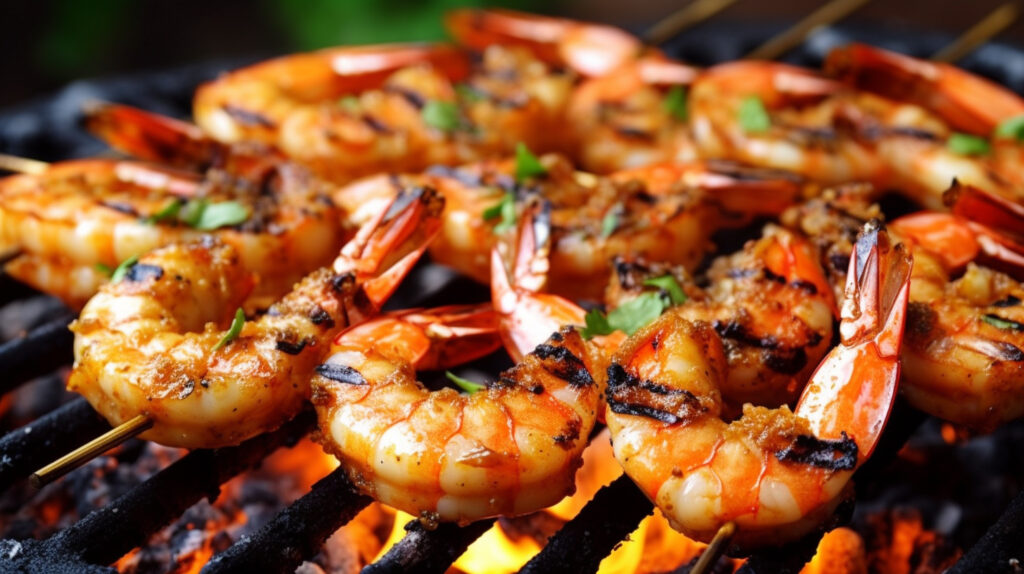 Ingredients
1 lb uncooked prawns, peeled and deveined
1 tsp smoked paprika
3 tbsp extra virgin olive oil
1 tsp dried thyme
1/2 tsp salt
1/4 tsp black pepper
1/4 tsp cayenne pepper
1/4 tsp onion powder
1/4 tsp garlic powder
Preparation
Mix all ingredient, including prawns, in a reclosable plastic bag;
Store the marinated prawns safely in your chilled cooler;
Once you've set up your grill at the beach, cook the prawns until they're pink and juicy.
Now, let's discuss grilling tools. While the idea of constructing a makeshift grill from found objects has a certain castaway charm, investing in an affordable portable grill is a much more convenient and safe choice. Look for something sturdy, easy to clean, and with a secure lid – the last thing you want is a rogue wave claiming your dinner.
As for the fuel, lump charcoal is a great choice as it lights up quickly, burns hot, and imparts that irresistible smoky flavor. While briquettes are also a handy option, they burn longer than lump charcoal which might not be ideal if you're in a hurry to pack up and head home after your feast.
Non-food-item pack list
We've all been there— arriving at the beach, ready to fire up the grill, only to realize we've left something important behind. As someone who's learned this lesson the hard way, I thought it might be helpful to share my personal non-food-item pack list. It has served me well over the years, ensuring I have everything I need for a successful and stress-free beachside grilling experience. Consider it a friendly nudge so that your BBQ tongs or lighter don't become the forgotten heroes of the day. So here goes…
Portable Grill: A key player in your beachside grilling journey. Opt for one that's sturdy, easy to clean, and has a secure lid.
Lump Charcoal or Briquettes: Depending on your preference, these will provide the heat for your grill.
Fire Starters: These will help you get your charcoal or briquettes lit more easily.
Lighter or Matches: These will ignite the fire starters. A long-nose lighter can be particularly handy.
BBQ Tongs: Essential for turning your food on the grill and ensuring it cooks evenly.
Instant Read Thermometer: This is a must-have to ensure your food, particularly meat, is cooked to the correct temperature.
Grill Brush: For cleaning the grill grates before and after use.
Aluminum Foil: Great for wrapping up leftovers, and can also double as a makeshift plate or utensil in a pinch.
Cooler: Preferably a large one with wheels, for transporting your food and drinks.
Paper Towels: For cleaning up spills, drying hands, and a myriad of other uses.
Wet Wipes: Great for cleaning up before and after eating.
Trash Bags: Remember, leave no trace! Bring some small bags for easy clean-up and disposal of trash.
Cutting Board: Useful for last-minute food prep at the beach.
Knife: A versatile tool, whether you need to slice up some lemons or cut your cooked meats.
Plates, Utensils, and Cups: Don't forget these! Opt for reusable options to be environmentally friendly.
Sunscreen: Protect yourself from the sun's rays while you grill and enjoy your meal.
First-Aid Kit: It's always good to be prepared for any minor cuts or burns.
Beverages: Water, soft drinks, or a selection of your favorite beach-friendly wines or beers.
Lastly, don't forget the cardinal rule of beach grilling: Leave No Trace. Just as you wouldn't want to discover a half-buried bratwurst on your beach day, let's keep our beaches clean and enjoyable for everyone.
Beach grilling, in all its smoky, sandy glory. Whether it's bratwursts tucked in buns, marinated chicken quarters sizzling to perfection, or Cajun prawns getting a fiery sear, the beach is your culinary oyster (yum). Pack up your grill, grab your flip flops, and let the symphony of surf and sizzle serenade you to the best meal of the summer. Happy grilling!