The humble hot dog – a culinary term that, for many, seems to go hand in hand with 'microwave'. This isn't entirely without reason, of course. My own childhood was punctuated by the stunning realization that hot dogs are, in fact, fully cooked right out of the packaging and thus microwaveable.
But let's be frank (pun intended) – there's a unique sort of contentment and nostalgia that accompanies the sizzle and pop of a hot dog on a charcoal grill. Tossing a weenie on the grates, hearing the crackle of the coals, catching a whiff of smoky whispers in the breeze – it's a rite of passage, a cultural touchstone, a… well, you get it.
While I bear no grudge against the unpretentious charm of hot dogs from the 'no-fuss' category, I've assembled a collection of three personal favorites that highlight the often-underestimated potential of this modest meal. These recipes we're about to explore are worth the extra time and smoky clothes you'll earn firing up that charcoal chimney. Let's ignite that reliable, old-school fire starter and get cooking.
1. Cincinnati Inspired Chili Cheese Dogs
This hot dog recipe takes a bow to the acclaimed Cincinnati-style chili, uniquely seasoned with an unexpected trio: cinnamon, cocoa powder, and allspice – adding an unforeseen twist to your everyday chili. This enigmatic mixture, paired with the punchy cheddar cheese, adds a charismatic layer to the unassuming hot dog. I'm confident that as you navigate the labyrinth of unexpected flavors in your grilled chili cheese dog, its taste will grow on you, and you'll want to cook this again at your future gatherings.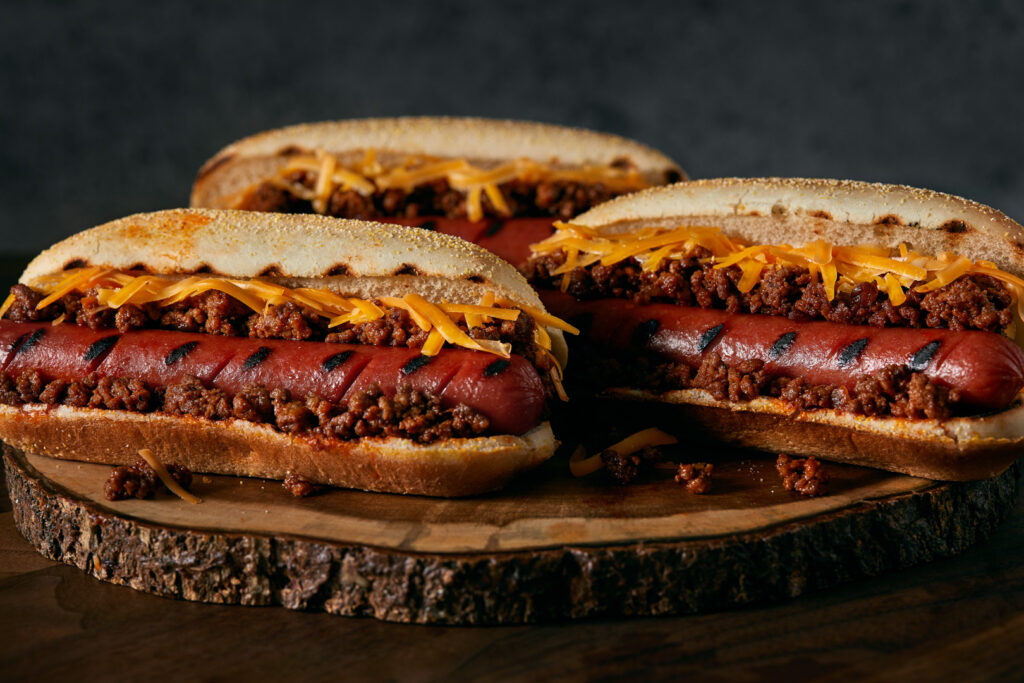 Ingredients:
4 All-beef hot dogs
4 Quality hot dog buns
1 cup – Shredded cheddar cheese
1 tbsp – Vegetable oil
1 ½ cup – Onions, chopped
2 Garlic cloves, minced
1 ½ lb – Ground beef
1 tbsp – Chili powder
1 tsp – Dried oregano
1 tsp – Cinnamon
1 tsp – Unsweetened cocoa powder
½ tsp – Ground allspice
1/3 cup – Ketchup
Salt and pepper to taste
Instructions:
Preheat your grill for direct heat.
In a preheated skillet, sauté the onions until golden brown, then add ground beef and garlic and continue cooking for 3 minutes.
Add all remaining chilli ingredients and continue cooking until beef is fully cooked.
Grill hot dogs for 2 to 4 minutes per side;
Assemble hot dogs with a grilled sausage, a large scoop of chili and top with cheese.
2. Reuben-Style Hot Dog
Our next hot dog takes inspiration from the classic Reuben sandwich, an iconic creation with roots in the bustling delis of early 20th-century New York. This Reuben-style hot dog, featuring all-beef sausages swathed in Swiss cheese, tangy sauerkraut, pickles, and rich Russian or Thousand Island dressing, blends historical flavors with a modern twist. It's one of those hot dogs you might not think about often, but when the craving hits a few times a year, it hits hard.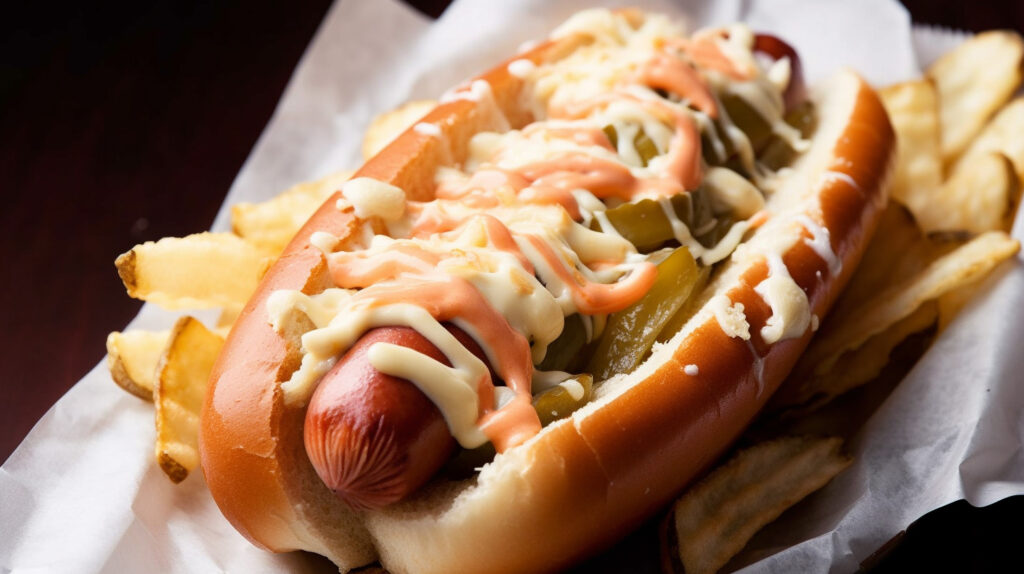 Ingredients:
4 All-beef sausages
4 Hot dog buns
4 slices Swiss cheese
Sauerkraut
Russian or Thousand Island dressing
Pickles
Instructions:
Preheat your grill for direct heat.
Grill sausages until fully cooked, 3 to 5 minutes in total.
Toast your buns if desired.
Once everything's ready, place a slice of Swiss cheese in each bun followed by a grilled sausage. Top with some pickles and a generous helping of sauerkraut, and drizzle with Russian or Thousand Island dressing to finish.
3. Mexican Street Corn Hot Dog
Our final gourmet hot dog ventures south of the border, marrying the vibrant flavors of Mexican street corn with the comforting simplicity of a grilled hot dog. Given that these two delights are often enjoyed side by side on Mexican streets, it felt only natural to bring them together in a single, flavor-packed bite. The role of the charcoal in this recipe is essential, providing that signature smoky char that is the heart and soul of street-grilled corn.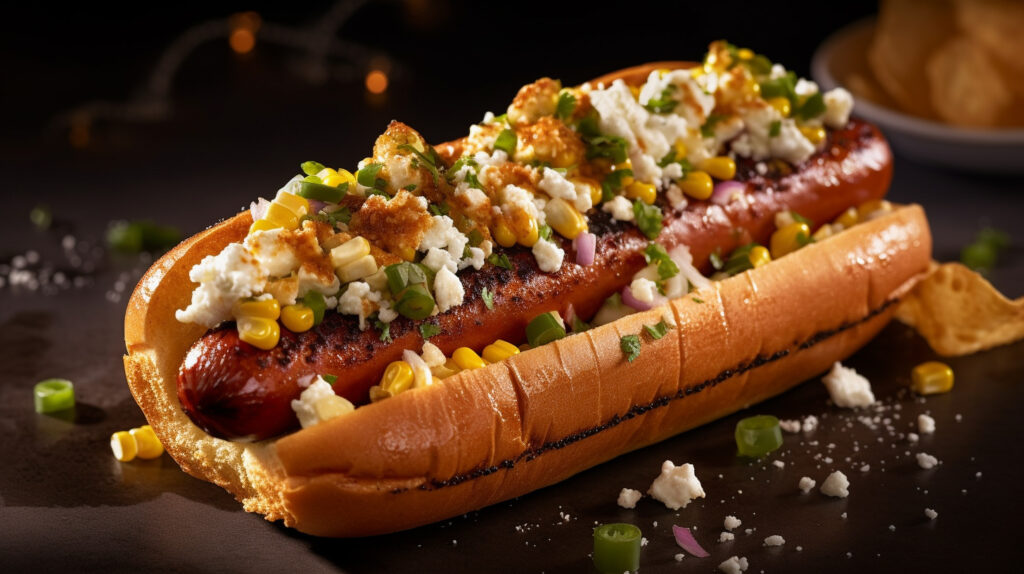 Ingredients:
4 Hot dogs
4 Fresh hot dog buns
Butter or olive oil for the buns (optional)
2 Corn on the cob, husks removed
6 oz Cotija cheese
3 tbsp Mayonnaise
1 tbsp Fresh lime juice
2 tsp Chili powder
Salt and pepper to taste
Cilantro, chopped
Green onions, chopped (optional)
Instructions:
Preheat your grill for a two zone cooking; tossing hot coals on one half and nothing on the other.
Place hot dogs over the coal-free zone, for indirect cooking, and place corn on the cob over the direct heat zone. Grill corn, rotating every 2 minutes, until fully cooked. About 8 to 10 minutes in total. Keep the lid closed between rotations so the sausages cook with the corn.
Lightly butter or oil the hot dog buns and grill for 5-10 seconds on each side.
Remove corn and sausages from the grill once fully cooked. Carefully cut kernels from the corn and transfer to a bowl. Add mayonnaise, lime juice, chili powder and salt and pepper to taste and mix to combine.
Assemble hot dogs with a grilled sausages and top with grilled corn, Cotija cheese, green onions, a sprinkle of chili powder and a squeeze of lime juice.
Navigating the Sausage Link Maze
You're standing in front of a sprawling sausage display at your local grocery store. The choices are daunting, and you're not sure where to begin. My advice? Steer clear of those budget-friendly, pallid wieners. They might be suitable for microwaving or boiling (…I know), but they falter on the grill. Their casing chars on contact, turning them into a sad and dry relic of what they could have been. So, with that said, allow me to guide you through my personal top picks for different occasions.
A Nostalgic Classic: Costco's Kirkland Beef Hot Dogs
Costco's Kirkland Beef Hot Dogs are more than a mere food item to me; they're a time machine. One bite and I'm instantly transported back to my youthful adventures in Costco (Price Club back in the days). I remember the anticipation building as the aroma of hot dogs and pizza permeated the checkout area, a rare treat that was only occasionally within my grasp. Now, as an adult, I get to indulge in as many Kirkland Beef Hot Dogs as I desire. Life comes at you fast, doesn't it?
The Indulgent Choice: KC Cattle Company Wagyu Gourmet Hot Dogs
If you're looking to add a dash of refinement to your grilling escapade, you can't go wrong with KC Cattle Company Wagyu Gourmet Hot Dogs. These dogs are the definition of high-class comfort food, where the carefree spirit of the hot dog meets a dash of elegance. Their indulgent flavor profile bears a striking resemblance to a good steak. If you want your friends to crown you the barbecue lord at your next cookout, these are your secret weapon.
Reliable and Everywhere: Hillshire Farm's Beef Smoked Sausage Links
Simple. Tasty. Everywhere. That's Hillshire Farm's Beef Smoked Sausage Links in a nutshell. They're my trusty companions for those impromptu camping trips in Vermont. I've had my fair share of these, and I can confidently vouch for their ability to stand the test of time. They're my reliable go-to when I'm in need of something tasty that doesn't require a scavenger hunt.
Crowd Pleaser: Niman Ranch's Uncured Pork & Beef Franks
When there's a family meal on the horizon and young taste buds are in the equation, Niman Ranch's Uncured Pork & Beef Franks are my lifeline. Their smooth and mild flavor has a knack for winning over the kids, turning mealtime from a battle into a celebration.
Fueling the Fire: Lump Charcoal
Finally, let's shine a spotlight on the unsung hero of our hot dog odyssey – the lump charcoal. When the goal is a speedy and scorching grilling session, lump charcoal takes the gold. Quick to ignite and capable of delivering some serious heat, it's the key to getting those hot dogs from the grill to the table in a snap.